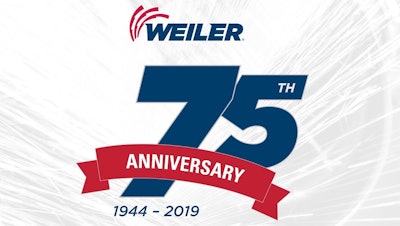 CRESCO, PA — The employees of Weiler Abrasives Group, the Cresco, PA-based global abrasives manufacturer, raised more than $40,000 in their annual campaign benefiting Pocono Mountains United Way. The company matched that effort with a $60,000 corporate contribution, bringing Weiler's total donation to $100,000.
The money raised will support Pocono Mountains United Way's Monroe County programming initiatives that address poverty alleviation, healthy food access and critical housing needs for local families.
"Weiler was built on, and continues to thrive because of, our strong partnerships with our customers, coworkers and community," said Bill Dwyre, Weiler's America's managing director. "We call them the 3 C's, and they are the foundation of our company values. Our steady support of the United Way campaign is one of the ways we've had the privilege of living those values out in the community we call home."
"We — like Pocono Mountains United Way — believe in making our community a better place," said Cristina Matos, Weiler sales and marketing analyst and United Way committee chairperson. "That's why we have continued our tradition of supporting them for the last 16 years."
To help promote the United Way campaign among her colleagues, Matos led a United Way committee with representatives from several Weiler departments. The campaign was 75 days long, themed "75 Days of Giving," and culminated on Oct. 12 at Weiler's Family Day Fall Festival, a celebration of the company's 75th anniversary. In September, the committee also hosted its Fifth Annual Golf Tournament at Skytop Lodge in Skytop, PA, another fundraiser for the company's United Way campaign.
Earlier this year, Weiler was awarded as the No. 1 Winner in the 2019 Pocono Record Reader's Choice Awards for these categories:
Best Overall Company to Work For
Best Benefits Program
Best Company Culture
Best Employee Recognition Program
Best Overall Leadership Program
Best Training Program
Best Workplace Culture
Most Innovative Workplace
Weiler Abrasives is a global manufacturer of surface conditioning solutions across markets of metal fabrication, industrial production and MRO.