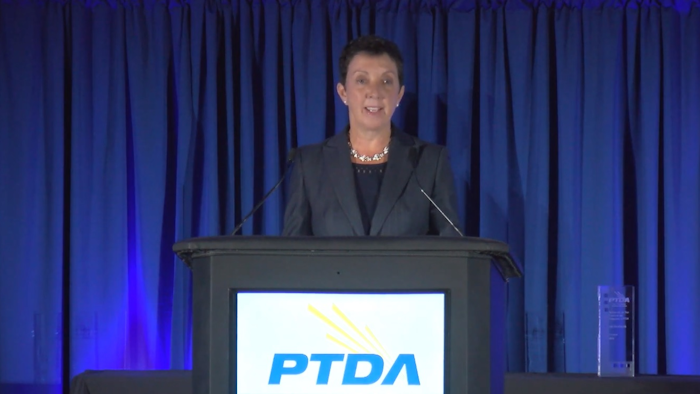 PTDA/YouTube
CHICAGO — Wendy B. McDonald was one of the power transmission/motion control industry's true pioneers. To honor her memory, the PTDA Foundation established the Wendy B. McDonald Award in 2014. The award is given to a woman who has established herself as a critical contributor to her company's success and has affected positive change within the power transmission/motion control industry. This year's recipient of the Wendy B. McDonald Award is Sandy Sullivan.
Sullivan joined Nidec Motor Corporation/U.S. Motors in 2003 and rose from a role in business development to her most recent position as national account director. Sandy's work ethic was to "do whatever it takes" to solve an issue for her customers. Similar to Mrs. McDonald's experience, Sullivan succeeded in this industry through building personal relationships while giving back to the industry.
Sullivan served on a variety of PTDA committees and task forces. She is especially proud of having been instrumental in establishing PTDA's Women in the Industry community. Starting with a small group of women getting together at PTDA meetings, it has grown in size and holds quarterly conference calls with open discussion about succeeding as a woman in the power transmission/motion control industry.
In her acceptance speech, she urged everyone in the room to think about what they could personally do to inspire or mentor a female in the PT/MC industry.
The award was presented to Sullivan during the PTDA Industry Summit by Brian Short, Global Strategic Account Manager at Regal Power Transmissions Solutions and President, PTDA Foundation Board of Trustees. For further information, visit ptda.org/WendyBMcDonaldAward.
See a video of the presentation below:
The PTDA Foundation, whose work is funded solely by donations, was founded in 1982. Its core purpose is to champion education, outreach and research initiatives relevant to the PT/MC industry that enhance the knowledge and/or professionalism and productivity of industry stakeholders. PTDA Foundation is a not-for-profit, tax-exempt 501(c)(3) corporation; contributions are tax deductible to the full amount allowed by law. For more information, visit ptda.org/Foundation.