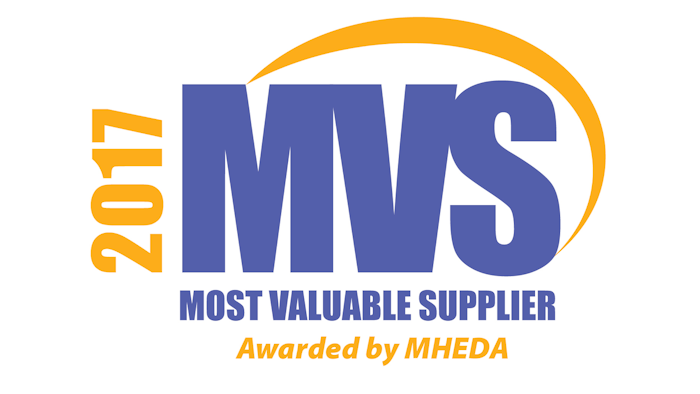 UNEX Manufacturing, Inc., has earned the MVS (Most Valuable Supplier) Award for achievements in 2018. The MVS Award is granted by the industry's trade association, MHEDA (Material Handling Equipment Distributors Association). This is the fourth consecutive year that UNEX Manufacturing has earned the MVS Award. This industry Award recognizes companies who have demonstrated an exemplary commitment to their dealer network, their employees, and their community. 
"UNEX is fully committed to helping our distributor partners succeed in the material handling and order picking world," said Brian C. Neuwirth, VP of sales and marketing at UNEX Manufacturing. "Each year dozens of distributors graduate from UNEX University, where UNEX professionals pass on their knowledge of the material handling industry, the issues and challenges facing businesses in this sector, and how UNEX solutions could help solve these problems."
To qualify for the MVS Award, UNEX Manufacturing was required to meet a series of criteria in a number of areas important to the distributor companies who do business with them. In addition to confirming an on-going commitment to safety and documenting a program that "gives back," MVS Award winners have demonstrated an overall commitment to the following areas: 
Industry Advocacy
Distributor Advocacy
Business Networking
Continuing Education
Business Best Practices
UNEX offers a range of order picking solutions, including the patented carton flow solution Span-Track, a full line of gravity conveyor products, and UNEX Flow Cells for durable, modular, and portable storage for the manufacturing floor.