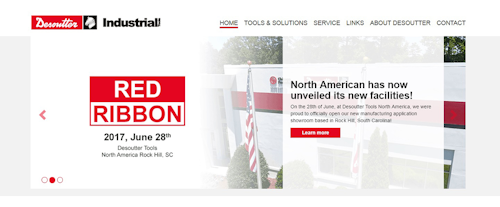 CHARLESTON, SC — Desoutter Industrial Tools, supplier of electric and pneumatic industrial tool solutions, held the grand opening of their new North American Headquarters on June 28 in Rock Hill, SC. 

The new headquarters is down the road from their prior, smaller location, and houses the North American headquartered management team, customer service, product repair, field service, customized solutions project team, marketing team, a smart factory lab of interactive product displays and a training facility. 

Attendees had a chance to tour the new facility, which includes an impressive new showroom. The new show room displays Desoutters wide range of tools in their main market segments, including, motor vehicles, motor vehicle tiers, aerospace, aerospace tiers, power equipment (large high torque applications), general assemble, and customized solutions (multi spindle and zero gravity arm). 

Of notice to attendees was the PivotWare product line, Desoutters intuitive human-machine process control platform that guides operators through a specific set of assembly tasks as part of an automated process. The platform includes a graphical and textual display that shows them exactly which tools to use, what components to apply, and where to fix them. PivotWare verifies that each step has been completed correctly before allowing the operator to move to the next step. The platform is programmable by the customer using software tools provided; therefore any changes in production requirements do not require specialist involvement. 

Our concentration when designing the new showroom was to display our commitment to Industry 4.0 with all of our smart tools and features, stated Doug Versele, Marketing Manager for Desoutter Industrial Tools. continued our highly interactive product displays focus on wireless tools and communications for traceability and process control to support flexible assembly processes, but also demonstrate our full range of capabilities, including customized solutions and process control software. As the industry moves towards smarter more connected tools and controllers, Desoutter wanted to display the possibilities in their showroom. Connecting tools and controllers increases productivity on the factory floor and allows for easy automation of the assembly process.
Founded in 1914 and headquartered in France, Desoutter Industrial Tools is a global provider in electric and pneumatic assembly tools serving a wide range of assembly and manufacturing operations, including aerospace, passenger, commercial and recreational vehicles, military transportation, construction and agricultural equipment, power equipment, light assembly, and general industry.