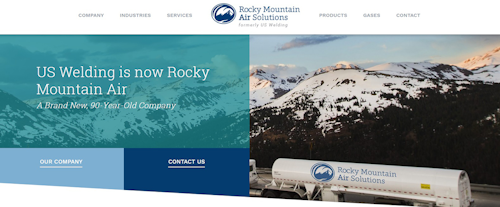 DENVER, CO — Kathleen and Richard Lofgren, owners of Denver-based United States Welding, Inc., recently announced that the company would change its name to Rocky Mountain Air Solutions during July.
"US Welding was always about delivering product to its customers with flawless dependability no matter the time, day, or place," Richard Lofgren said. "An emergency is an emergency. By updating our name and image to reflect the products we deliver, we are making it easier for our customers to understand how we can serve them — that is what will carry us forward."
Founded in 1924, United States Welding, Inc. initially opened its doors as a welding repair shop. The company has since evolved into one of the leading gas and welding supply distributors in the Rocky Mountain region. The choice to change the company's name after over 90 years of business is a significant shift, but one that the ownership and employees hope will refresh the image of the growing company, while still honoring its original mission.
"We see this new name as a chance to reaffirm what we do and who we are as a company," company corporate image developer Erin Conner said. "Based in the Rocky Mountains, we primarily sell atmospheric gases and personalized gas solutions for our customers and their businesses. As a name, Rocky Mountain Air Solutions clearly ties both who we are and what we do for our customers."
While there is no indication of additional changes to the company's identity, representatives of the business are firm in stating that the customer-centric focus will stay the same. Customers and employees alike are optimistic about the changes.
Owner Kathleen Lofgren sums up the new direction by saying, "What we care about is being the best… in the industry, in this business, and for each other. By embracing a name that better represents who we've always been, we highlight ourselves as a company that is always there for its customers when they need us."
Same Company. Cooler name.