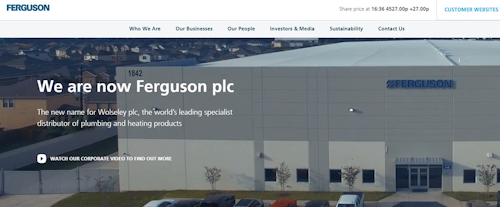 On Monday, England-based Wolseley plc officially completed its company rebranding and name change to Ferguson, and is now under the direction of a new CEO.
As part of its 2017 first half financial report back on March 28, then-Wolseley first announced the rebranding — effective July 31 — that correlates to the company doing the vast majority of its business in the U.S. under is Ferguson Enterprises subsidiary.
The company's Q3 fiscal report, posted June 20, showed that 70.3 percent of its total sales were in the U.S., as well as 89.4 percent of its profit.
The distributor of plumbing, heating and industrial products and services will continue to use the Wolseley name in the U.K. and Canada markets, but the group's name change reflects the success of Ferguson in the U.S. The company's website has also been updated to www.fergusonplc.com.
Along with the rebranding, Kevin Murphy — who had been serving as the company's COO for the past 10 years — took over as Ferguson CEO effective Monday. He succeeds Frank Roach in the previously-announced transition.