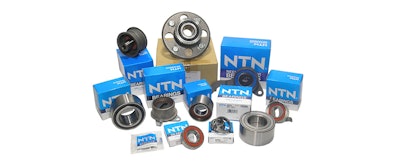 Mt. Prospect, IL-based NTN Bearings has announced personnel moves in both its Industrial and Automotive Aftermarket divisions that realign its sales efforts in each area.
NTN has announced the promotion of Scott Eiss to vice president of Sales, Industrial Aftermarket. Eiss will lead the NTN industrial aftermarket sales business unit and report directly to NTN president Pete Eich. Eiss was previously director of field sales for NTN's industrial aftermarket team.
In his new position, Eiss will oversee all activities related to sales through industrial distribution partners, with primary managerial responsibility for the six sales regions, corporate accounts and account executives.
"Scott has been extremely successful at driving growth and leading sales teams in his time at NTN," Eich said. "His laser focus on creating value for our customers will allow him to be tremendously successful in the new role."
Eiss rejoined NTN in 2014 as a Regional Manager before being promoted to Director of Field Sales in 2015. He previously worked at NTN as an engineer before moving on into various sales and marketing leadership roles for NSK, SunSource, Silverthin Bearing Group, and AESSEAL.
NTN has also announced the promotion of Kevin Judge to vice president of sales and marketing, Automotive Aftermarket. Judge will lead the entirety of the NTN auto aftermarket sales and marketing business unit and report directly to Eich.
In his new position, Judge will oversee all sales and marketing efforts supporting NTN's automotive aftermarket business unit, including the renowned BCA wheel bearing line and Bower heavy duty products.
"Kevin's name is ubiquitous with the automotive aftermarket," Eich said. "His wealth of experience leading sales and marketing organizations will be critical as he continues to drive the growth of our aftermarket business unit."
Judge joined NTN in 2015 as the Eastern Regional Sales Manager before being promoted to Director of Marketing, Automotive. Prior to that, he spent time in a number of leadership roles at Tenneco, Brake Parts, Inc., and Fras-le.