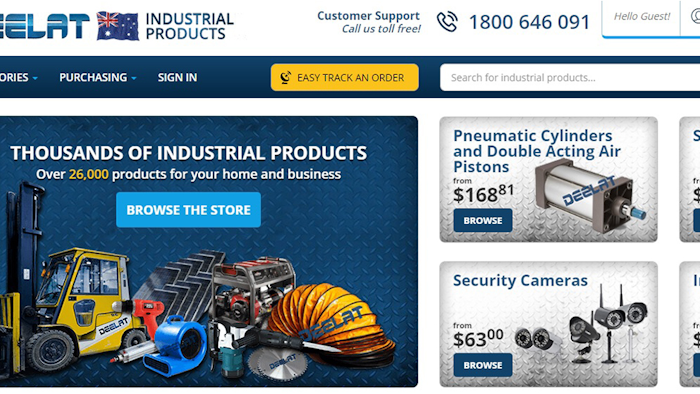 SYDNEY, Australia — With thousands of products in a wide range of categories and an easy-to-navigate website, Deelat Industrial Australia is changing the way contractors, universities, hospitals, schools and maintenance companies buy industrial products. Launched in 2014, Deelat Industrial continues to grow and expand its inventory of high-quality Solar Powered Lights and Building Materials, and Deelat's state-of-the-art website streamlines shopping and ordering. Deelat Industrial has sales offices and logistical warehouses in Calgary (Canada), Los Angeles (USA), Miami (USA), and Sydney (Australia).
The new Australian website, Deelat.com.au, features more than 30,000 private-label products in categories like solar powered outdoor lighting, HVAC, electrical, fasteners, and medical. Our feature products include: 
Solar Powered LED Security Light
1-Phase 110V Explosion Proof Portable Ventilator
Motorized Ball Valces
Air Rivet/Pneumatic Power Tools
PVC Flexible Ducts
Plus, Deelat Industrial Australia has made ordering building supplies and industrial products easier. Using Deelat, companies can search for, purchase and track orders in one-click.
As an emerging industrial supplier, Deelat is also changing the customer experience. Deelat guarantees excellent, on-call customer service; convenient, user-friendly ordering and on-time shipping. Deelat customers can expect:
Intuitive Ordering - Deelat's state-of-the-art website is designed to simplify ordering. First, the site's intuitive search function helps users find products based on preferences. Plus, the site offers useful order management tools for corporate clients and one-click order tracking.
 
Fast Shipping - Traditionally, shipping industrial products has been a slow and expensive process. Deelat eliminates this problem by providing customers accurate estimates for shipping time and costs, which are based on distance, expediency and weight. All products ship out of their Sydney based warehouse, ensuring overnight delivery to many post codes.
 
Excellent Customer Service - Deelat Australia guarantees an unparalleled customer experience. Communication is responsive with an on-call staff of customer service representatives. Your questions will answered quickly and honestly. Customers are invited to try the 24/7 around the clock customer service provided on the website's Instant Chat.
 
Privacy and Security - Deelat.com features cutting-edge 256-bit SSL encryption and security technology. Customers are guaranteed security and privacy for their data when ordering from Deelat.com.au.
Deelat Industrial Australia will be bringing new products and a variety of choices to the Australian consumer. They truly offer a product for every project.