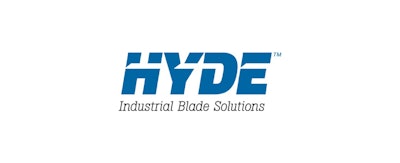 SOUTHBRIDGE, MA — Hyde Industrial Blade Solutions recently announced that Jeremy Dexter has been hired in a newly created position of director of product development engineering.
In this position, Dexter will lead strategic initiatives in the development of new products, process and market opportunities for the company's customers and its distributors. Working in tandem with Hyde's sales and marketing and operations teams, he will lead the product development engineering department in identifying potential in new and existing markets for the manufacturer.
Most recently, Dexter was director of engineering at Fitchburg, MA-based Simonds International. He rose through several roles with increased responsibilities in research and development, process engineering and quality assurance during his 16-year tenure at the industrial cutting tool manufacturer.
Dexter is a graduate of Worcester Polytechnic Institute (WPI) with a Bachelor of Science in Mechanical Engineering with a concentration in material science and earned a Master of Business Administration from Fitchburg State College. He has also received certifications in ISO 9001:2000 training and lean manufacturing processes.
Dexter resides in Templeton, MA, with his wife, Jennifer, and his two sons, Calvin and Carter.