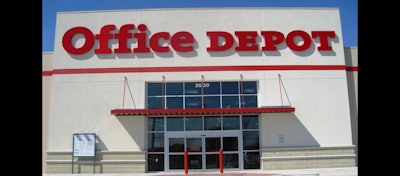 BOCA RATON, FL — Office Depot announced Monday that Roland Smith plans to retire as Chief Executive Officer of the company. Smith will continue to serve as CEO until a successor is named, which is expected by the end of first quarter 2017. It is expected Smith will remain Chairman of the Board. The Board of Directors will evaluate, with the assistance of an executive search firm, both internal and external candidates for CEO.
"Since joining Office Depot in November 2013, Roland has built and led a talented management team that has done an outstanding job of integrating Office Depot and OfficeMax, and delivered synergies and efficiencies that significantly exceeded expectations," said Warren Bryant, Lead Director of the Board of Directors. "In addition, Roland and his team worked closely with the Board to develop a clear and compelling three-year strategic plan that positions the company for profitable growth. Roland has led the company to a position of solid standing, and we appreciate his ongoing leadership and commitment to Office Depot as we identify and transition to our next CEO."
"My decision to retire has not been an easy one. In 2013, I set aside a number of personal ambitions to accept a three-year contract with Office Depot, and it's now time for me to refocus on those priorities," said Smith. "I am extraordinarily proud of what the Office Depot team has accomplished these past three years, and I am confident that we will successfully execute our new strategy and grow shareholder value."
Executive Reorganization
Office Depot also announced today that it is reorganizing its Executive Committee to better align with the three-year strategic plan unveiled by the company earlier this month. As part of that plan, Office Depot is consolidating its retail, contract, ecommerce and marketing operations to better serve our customers in today's omni-channel marketplace. These functions will now report to Troy Rice, who has been named to the newly-created position of Chief Operating Officer, North America. Rice currently serves as Office Depot's Executive Vice President, Retail, where he successfully led the integration of the Office Depot and OfficeMax store operations, drove same store sales improvements and significantly grew operating profit.
The company has also named Rob Koch to the newly-created position of Executive Vice President, Business Development, where he will be responsible for identifying and commercializing new business opportunities. In this role, Koch will have substantial responsibility for rolling out Office Depot's store of the future and the expansion of adjacency opportunities, including Jan-San. Koch is currently Senior Vice President, Real Estate, and will continue to oversee the company's real estate portfolio, including leading Phase II of the retail optimization plan.
Rice and Koch will report to Mark Cosby, President, North America, until a new CEO is named, at which time the President and CEO roles will be consolidated and they will report directly to the CEO and serve on the company's Executive Committee.
Additionally, Steve Calkins, Executive Vice President, Contract, has been promoted to Executive Vice President and Chief Legal Officer. Calkins is a seasoned legal and business leader who previously served as Vice President and Deputy General Counsel of the company, as well as spent a number of years in private law practice. Calkins replaces Elisa Garcia, who recently left the company. Calkins will report to the CEO and serve on the company's Executive Committee.
"Troy and Rob are both experienced and talented executives who have provided critical leadership during extraordinary times at Office Depot," said Smith. "Troy's ability to lead our organization through the integration of the Office Depot and OfficeMax stores and significantly improve retail profitability positions him perfectly to align our retail, contract and ecommerce functions for optimal customer service and efficiency. Rob's leadership in rolling out the first phase of our store of the future has demonstrated his capacity to think creatively and commercialize new opportunities.
"In addition, Steve's excellent work as head of our contract business combined with his previous role as Office Depot's Deputy General Counsel allows him to return to the legal department as a well-rounded leader with a broader business perspective."