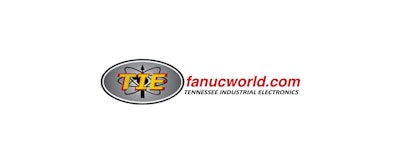 LA VERGNE, TN — Tennessee Industrial Electronics (TIE), an aftermarket supplier of FANUC CNC parts and repair services, announced Wednesday that Tony Wisniewski has been named president & chief executive officer. As CEO, Wisniewski will have responsibility for all of the company's operations in the U.S. market with a key focus on growing sales and expanding the company's product and service capabilities.
"I am excited and honored to join TIE (Fanucworld). The company has an enviable reputation in the FANUC CNC aftermarket industry and sets the bar for outstanding customer service and tech support," Wisniewski. "I look forward to working with our talented team to continue the tradition, as well as leading the charge to achieve our future growth objectives."
During his 25-year career, Wisniewski held various senior operations and leadership roles with large industrial companies, including ABB and Ingersoll-Rand. Most recently, Wisniewski served as VP and General Manager at Quinn Group, one of the largest Caterpillar equipment dealers in the United States.
"Tony's depth of experience in industrial aftermarket product sales and service make him uniquely qualified to lead TIE. His strategic approach to managing and driving strong revenue growth will be a valuable asset to help achieve the Company's future goals to expand the depth and breadth of our offerings," adds Bill Grana, interim CEO at TIE.
Founded in 1992, TIE is a supplier of refurbished industrial electronic FANUC CNC component parts (controls, motors, drives, monitors, PCBs, robot parts) and repair services to end users, integrated suppliers, third party service providers and resellers.