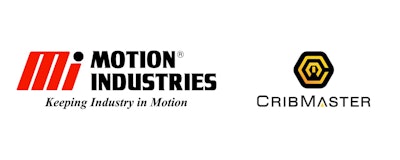 BIRMINGHAM, AL — MRO distributor Motion Industries, No. 10 on Industrial Distribution's 2015 Big 50 List, has been presented the 2016 CribMaster U.S. Partner of the Year Award. CribMaster, a global provider of inventory and asset management solutions, based the decision on Motion's "exceptional performance in areas such as strategic execution, marketing, and revenue growth that have significantly impacted the organization's business."
"We presented this very important award to Motion because they exemplify the values of an outstanding CribMaster partner," said Kelly Musselwhite, CribMaster vice president of marketing and strategy.
Doug Osborne, Motion Industries' Vice President, Inventory Management Solutions (IMS), said, "I am very proud of the IMS team for their hard work and commitment to finding the right solutions to improve our customers' operations. CribMaster's team and products have been instrumental in growing our program and they continue to be a highly valued solution provider."
"We greatly appreciate the collaborative partnership we have developed together with Motion over the years," said Jon Safran, CribMaster President. "Our close work with them provides us important insight and voice of the customer. This continuous input helps make CribMaster a stronger company and a better partner."
The award was recently given at CribMaster's Annual User Conference at the Loews Hotel in Atlanta, which drew 291 attendees from 78 companies across 11 countries.