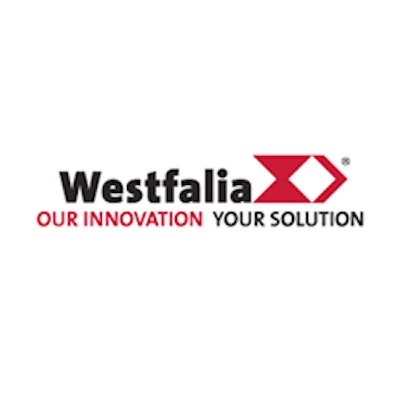 YORK, PA — Westfalia Technologies, Inc., a provider of logistics solutions for plants, warehouses and distribution centers since 1992, is a winner of the 2014 Green Supply Chain Awards, presented by Supply and Demand Chain Executive. Out of more than 100 entries, Supply & Demand Chain Executive selected Westfalia for helping clients "go green" and promote sustainability by minimizing land usage, decreasing energy consumption, and reducing waste production through its warehouse automation solutions.
Dan Labell, owner and president of Westfalia Technologies, said, "In addition to helping customers maximize their productivity and efficiency with our warehouse automation solutions, Westfalia is also committed to incorporating green initiatives into our efforts. Specifically, our automated storage and retrieval systems' 'Go Green with High Density' design minimizes building footprints, which in turn lowers construction costs and decreases energy usage."
On average, Westfalia's AS/RS reduces square-footage requirements by 40 percent when compared to conventional warehouses, while lowering energy consumption by 30 percent. In addition, the picking accuracy provided by the company's WMS/WCS software, Savanna.NET, virtually eliminates waste and damage.
The 2014 Green Supply Chain Awards recognize companies making green or sustainability a core part of their supply chain strategy, and are working to achieve measurable sustainability goals within their own operations and/or supply chains, in the areas of Sourcing/Procurement, Fulfillment/Logistics, Operations, Product Lifecycle Management, and other areas of the supply chain. The awards also recognize providers of supply chain solutions and services assisting their customers in achieving measurable sustainability goals.
The official announcement of the awards will appear in the December 2014 Green Supply Chain Award issue of the magazine and online at www.SDCExec.com.