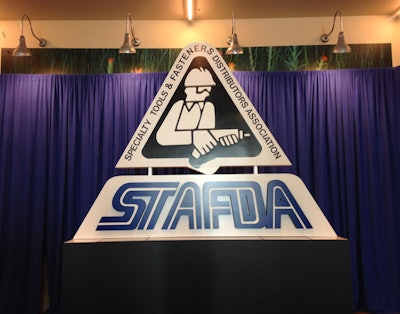 Elm Grove, WI — It was another mad race to the finish line as members of the Specialty Tools & Fasteners Distributors Association (STAFDA) registered for the 42nd Annual Convention & Trade Show in Phoenix at a breakneck pace right up to the start of the program. More than 4,200 attendees gathered for the Oct. 28-30 event, which included a 680-plus booth Trade Show featuring nine 50' x 50' island booths.
Educational Workshops Sunday offered attendees a wide-range of topics for a custom-fit curriculum. Subjects included Leveraging Social Selling; Leaders are not Born: They're Built; Selling Boldly; Improving Distributor Profitability; and Putting the Success Back in Succession. The Young Professionals Luncheon included a panel discussion made up of distributor, manufacturer, and rep members who provided valuable insight to members under 35. That afternoon, Speed Interviewing provided 30 university students from around the country with industrial distribution, supply chain, or construction management majors the opportunity to meet with members seeking to hire new employees or interns. Several job offers were made (and accepted) that week.
This year's Give Back Program allowed attendee spouses and companions to build custom rocking horses for the Phoenix Children's Hospital Foundation. Each team was given a note from a child describing their favorite colors and themes so the horses could be personalized.
After a busy day of learning, attendees could "Escape to CityScape" for STAFDA's Opening Party. Live music from a popular local band, The Walkens, greeted members as they arrived at the entertainment complex. Live comedy, arcade games, jazz music, and of course great food and plenty of networking opportunities made the evening fly by.
Monday morning's General Session focused on distributor initiatives to encourage education in the building trades, including recognition of student attendees. Industry speeches from STAFDA President Michelle St. John, Industrial Bolt & Supply, Auburn, WA, and Associate speaker Bill Sisto, G-Strut, Canton, OH, looked at the unique relationships member companies offer customers and employees.
Leadership and maintaining a home-life balance were highlights of keynote speaker Jon Gordon's presentation. Author of several best-selling books, Gordon discussed how great business leaders maintain a positive attitude in the office, with their employees or teams, and at home.
The sold-out Trade Show then opened for six hours offering attendees a wide variety of new products and show specials to demo, discuss, and order. Also within the exhibit hall, the Tech & Consultants Areas provided opportunities for business-building ideas featuring software, advice, discounted services, and more.
Tuesday morning's traditional Economic Update from Alan Beaulieu offered another well-researched and easily understandable look at the U.S. and Canadian economies. Alan's talent for bringing very high-level concepts to a practical level has made this a standing-room only event each year.
Two spouse/companion day tours — a trip through Phoenix and Scottsdale included stops at the Arizona Biltmore and Frank Lloyd Wright's Taliesin West while the second tour went to Tucson to visit the Mission San Xavier del Bac and Sonora Desert Museum. The exhibit hall opened again for five and a half hours of Trade Show opportunities before the Closing Party provided attendees with a buffet dinner while Mogollon, one of the region's hottest country-rock bands, entertained.
STAFDA's 43rd Annual Convention & Trade Show, will be held Nov. 10-12, in Nashville. Registration opens June 24 at 8 a.m. CST.