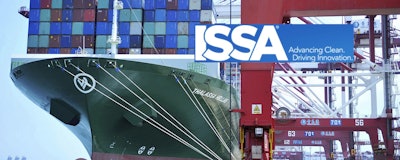 At the start of August, news broke of the Trump administration's proposal of widening its 25 percent tariffs upon Chinese goods to an additional $200 billion worth of imported products. The White House had previously asked the Office of the U.S. Trade Representative about possibly imposing a 10 percent tariff on $200 billion in Chinese goods, but the newer plan would more than double those taxes. In July, U.S. President Donald Trump enacted a 25 percent tariff on $34 billion in Chinese imports. On Thursday, taxes on an additional $16 billion of Chinese goods take effect. Meanwhile, China is retaliating with tariffs of its own against the U.S.
On Aug. 17, ISSA — the Worldwide Cleaning Association, an association for the industrial jan/san product suppliers, distributors and service producers posted the below statement atop its website. It explains ISSA's stance against the latest proposed tariffs and what association expects the impacts of such tariffs upon manufacturers of cleaning products and the economy as a whole.
Here it is in full:
"The most recent round of proposed tariffs will do nothing to remedy China's unfair trade practices while imposing a substantial adverse economic burden on manufacturers of cleaning products and the national economy in general," said ISSA in formal comments opposing the tariffs, which were submitted to the U.S. Trade Representative earlier this week.
In its comments, ISSA opposed the recently proposed tariffs, which would affect, among other things, intermediate component parts or ingredients used by U.S.-based manufacturers in the production of finished goods such as mops, buckets, brushes, janitorial carts, and cleaning product formulations.
Manufacturers of cleaning products have indicated that the most recent set of proposed tariffs on Chinese goods and the anticipated Chinese retaliatory actions will negatively impact their ability to remain competitive and have other adverse economic impacts that will ripple through our national economy.
Many manufacturers will raise prices, which in turn will increase costs for their commercial and institutional customers such as hospitals, nursing homes, K-12 schools, and food-processing establishments—in turn compromising their ability to maintain safe and sanitary conditions. From a macroeconomic perspective, U.S. manufactured goods will be less price competitive than their foreign counterparts, resulting in reduced consumption of U.S. goods and ultimately less domestic production, fewer U.S. jobs, and decreased capital investment.
Alternatively, many manufacturers and their distributors will need to significantly cut costs because they may not be in a position to increase their prices and pass along the costs of the tariffs. Manufacturers and distributors that sell their products to institutional and commercial customers often are contractually locked into a price and are not able to raise prices to cover tariffs that exceed their margins. Consequently, these companies must look at cost-cutting measures, which usually translates into layoffs and reduced hiring, along with decreased capital investment.
If you would like the complete text of ISSA's comments in opposition to the tariffs, please send an email to ISSA Environmental Services Director Bill Balek at bill@issa.com with "USTR Comments" in the subject line.