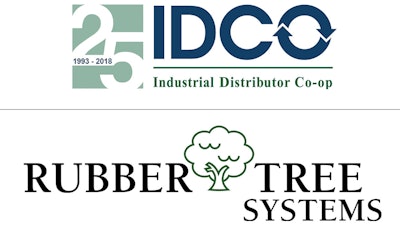 IDCO Co-op, a co-op for independent distributors serving the industrial community with hose, fittings, gaskets, rubber materials and related products, has announced the addition of their newest endorsed service supplier, Rubber Tree Systems.
Offering affordable and powerful analytics, mobile sales and CRM for your sales and management team, Rubber Tree Mobile Sales will provide your team with instant access to the most relevant information on their phone, tablet, laptop or desktop. Visualize your data with fully integrated analytics and beautiful dashboards, all customized to your needs. This low-cost, no contract software is fully hosted with maximum security, freeing you from the worry (and cost) of maintaining another software system. With quality products, outstanding service and long-lasting customer relationships, Rubber Tree Systems has been mobilizing sales teams across the country for over 12 years! Over 200 companies have turned to Rubber Tree to provide them with the tools they need for their sales and management teams.
IDCO Member River Bend Hose has just recently begun working with Rubber Tree Systems. Jay Adams, Chief Operations Officer at River Bend Hose, said, "In a very short period of time Rubber Tree has become a key business partner. Rubber Tree provides us with up to date data to our sales force on their mobile devices. They also give excellent business analytics for sales, management and executive level. They are now working with us on customized manufacturing dashboards for our production managers and shop floor production cells. They are becoming key to implementing our Lean manufacturing strategy."
IDCO is looking forward to the partnership with Rubber Tree Systems and the ability to offer this sales and analytics software to its growing membership.
IDCO currently has 71 members in the US and Canada, and over 75 endorsed suppliers. IDCO members are active leaders in the industry, and its membership includes six of the last eight NAHAD Presidents. IDCO is currently celebrating its 25th successful year in business. For more information about IDCO Co-op, visit idco.coop.