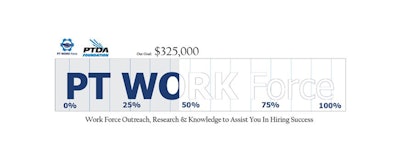 CHICAGO — Recognizing that work force needs ranked as the number one challenge of power transmission/motion control (PT/MC) distributors and manufacturers, the PTDA Foundation launched PT WORK Force℠ — an initiative to specifically support the PT/MC industry with Work force Outreach, Research and Knowledge.
And to help continue the momentum in 2018, 56 organizations and individuals have funded the PTDA Foundation's Vanguard Campaign, making contributions of over $129,000 to kick-off the 2018 Fund Drive. These organizations are "in the vanguard"—leading the fundraising charge. By contributing to the PTDA Foundation as part of the Vanguard Campaign, these companies are taking a leading role in the movement to develop the support PT/MC distributors need to find, connect with and recruit for key positions in the PT/MC industry. The PTDA Foundation's 2018 Fund Drive is now in progress; more companies and individuals are contributing every day to support the effort.
"The world of work is constantly changing. With unemployment at an all-time low, employers in our industry are feeling the pressure to hire the team members they need to grow their organizations," said Brian Short, corporate account manager at NSK Americas and president of the PTDA Foundation. "The work of the PTDA Foundation to create PT WORK Force is a critical game-changer for our industry. It's something we all need and, by pooling our financial support and working together through PTDA Foundation committees, we can enable PT/MC employers to recruit new employees and attain a sufficient, vibrant workforce," he said.
2018 PTDA Foundation Vanguard Contributors
Partner Contributors ($15,000+)
Allied Bearing & Supply, Inc.
Motion Industries & Motion Canada
Investor Contributors ($10,000 - $14,999)
BDI Americas (USA & Canada)
Stakeholder Contributors ($5,000 - $9,999)
Baldor Electric Company
Bishop-Wisecarver Group
The Timken Company
WEG Electric Corp.
Benefactor Contributors ($2,500 - $4,999)
Affiliated Distributors, Inc. (including Bearing Service Company of Pennsylvania; ErieTec, Inc.; French Gerleman; Gordon Industrial Supply Co.; IBT Industrial Solutions; and Malloy)
Altra Industrial Motion
Bearing Service Inc.
CENTA Corporation
Diamond Chain Company
Garlock Sealing Technologies
Alan Haveson*
Houston Bearing & Supply Co., Inc.
Koyo Bearings North America
Lafert North America
Master Power Transmission, Inc.
Midpoint Bearing
Nachi America, Inc.
Oilite Bearing Division (Beemer Precision, Inc.)
SENQCIA MAXCO, Ltd.
U.S. Tsubaki Power Transmission LLC (UST)
W.C. DuComb Co., Inc.
Leadership Contributors ($1,000 - $2,499)
Bando USA, Inc.
Bison Gear & Engineering Corp.
Climax Metal Products Company
Daido Corporation of America
Dichtomatik Americas
Koyo Canada Inc.
RBI Bearing, Inc.
Regina USA Inc.
The Rowland Company
SKF Canada Limited
Transply, Inc.
Webster Foundation (Webster Industries, Inc.)
Sponsor Contributors ($500 - $999)
Bearing Engineering Co.
Bearing Headquarters Co.
Brewer Machine & Gear Co.
Tom Dielschneider*
Pamela and Mark Kan*
RG Speed Control Devices Ltd.
Stafford Manufacturing Corp.
Colleague Contributors ($250 - $499)
Adam-Hill Co. (in memory of Patricia Forbush)
Bearings and Industrial Supply Co., Inc.
Bob Callahan*
ISC Companies, Inc.
Mary Sue Lyon* (in memory of Terry Hutton)
Sue and John Masek* (in honor of Mary Sue Lyon and in memory of Terry Hutton)
Bill Moore*
MPT Drives, Inc.
The Ralphs-Pugh Company, Inc.
Barbara J. Ross* (in loving memory of Gordon Ross)
Brian and Karen Short*
Torque Drives, Inc.
Associate Contributors (Up to $249)
* Heritage Society Leader Gift
The PTDA Foundation Fund Drive is underway with a goal of raising $325,000 in 2018. To join these Vanguard contributors, download a pledge form at ptda.org/FoundationSupport.
The PTDA Foundation, whose work is funded solely by donations, was founded in 1982 to champion education, outreach and research initiatives relevant to the power transmission/motion control (PT/MC) industry that enhance the knowledge and/or professionalism and productivity for industry stakeholders. The Foundation is a not-for-profit, tax-exempt 501(c)(3) corporation; contributions are tax deductible to the full amount allowed by law.
For more information or a complete list of donors, visit ptda.org/FoundationSupport.