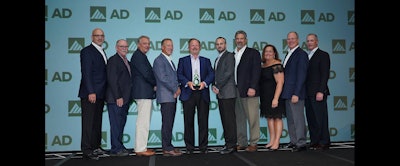 WAYNE, PA — AD Industrial hosted the 2017 AD North American Meeting at the Gaylord Texan, in Grapevine, TX from September 17-20. It was a record-breaking year for the division with more than 800 attendees. Members and Suppliers are also trending towards record breaking numbers to finish out 2017. For the second year, AD Industrial combined its North American Meeting with the AD Bearings & Power Transmission Network meeting.
The theme for this year is #ADSTRONG. During the keynote address by AD's Chairman and CEO, Bill Weisberg, he shared the top three attributes that define AD Members and Suppliers as smart, driven and unwavering in their beliefs. Weisberg also introduced the AD Disaster Relief Foundation which now allows AD Members and Suppliers to help one another when a natural or man-made disaster strikes.
AD continues to leverage economies of scale to help their members and suppliers stay ahead of the curve. Programs such as AD eCommerce Solutions, AD HR Services, and AD Procurement Services are our most recent examples of how the group continues to support the future of independents. Additional highlights of the AD North American Meeting included best in class networking, strategic partner briefings, young leaders' events and one on one booth appointments.
Jack Templin, President of AD Industrial Divisions said, "This year's' AD North American Meeting was especially satisfying as we are setting records in virtually every measurable category. Our members' commitment to reward AD suppliers by converting business to them is at the heart of the strong performance. Our success has enabled us to expand the programs and services we can offer to Members and Supplier Partners. Witnessing the enthusiastic engagement was nothing short of inspiring."
The 2017 AD Spirit of Independence honorees are:
The following were honored for their dedication and services as outgoing Industrial Board Members and Product Committee Members:
Industrial Board Members:
Industrial Product Committee Members:
AD was recently profiled in Industrial Distribution's 2017 July/August issue as its Distributor Profile and cover story. See it here.
See a photo gallery of the AD Industrial North American meeting award winners below: