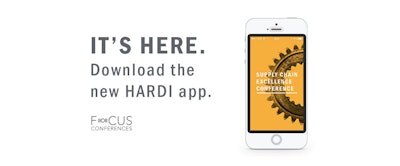 COLUMBUS, OH — Heating, Air-conditioning & Refrigeration Distributors International (HARDI) has re-launched its networking app as HARDI Hub.

The new HARDI Hub app underwent a soft launch at HARDI's Supply Chain Excellence Conference in Tempe, Ariz. HARDI Hub provides event attendees a useful tool that helps them navigate events, follow along with speaker presentations, take notes, network with other attendees and even order an Uber.

"The HARDI Hub app is an expanded initiative we are launching as part of our overall efforts to add to the growing value of HARDI's networking events," said Marketing Manager Chris DeBoer. "The new app has a central hub which will house five 2017 HARDI events within itself. I am confident our members that attend our events will find great value in this powerful tool throughout the entire year."

Registrants of HARDI's conferences have in-app access to the entire list of attendees and their contact information through the app. HARDI Hub also has a chat function that allows attendees to engage in networking with ease at any time before, during and after their conference.

"In the HVACR distribution industry, B2B marketing is a primary source of sales and business relationships," said Networking & Conferences Manager Eileen Mantel. "HARDI conferences serve to provide members and attendees with valuable information to help improve their business, as well as serve as a hub where key members and decision makers can come together and connect. HARDI Hub is a great tool to help facilitate making meaningful connections."

The HARDI Hub app will also be available for the other HARDI Focus Conferences, Strategic Leadership & Finance and Marketing & Sales, as well as the Emerging Leaders and Annual Conference.

For more information, please contact Anthony Lagunzad at alagunzad@hardinet.org, or visit the HARDI website at www.hardinet.org.