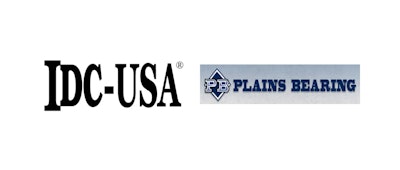 Plains Bearing, a full-line bearing and power transmission distributor in Lubbock, TX, loyally serves its customer base in the petrochemical, agricultural and food processing industries. They joined IDC-USA in the fall of 1990 and over the years became a great asset to their fellow distributors. However, in 2011, Plains Bearing made the decision to sell a portion of their assets. During those years, they operated in conjunction with another company (Kaman Industrial Technologies).

Now they are reclaiming their independence! Operating as they had in previous years, one of their first decisions was to rejoin IDC-USA.
"We know the value of IDC-USA firsthand. For us, it's access to IDC Preferred Supplier products and IDC Select, the proprietary brand of IDC Members," stated James Grusendorf, president of Plains Bearing. "It is good to be back amongst my fellow independents."

"We are ecstatic that Plains Bearing is operating independently again," commented George Graham, executive vice president of IDC-USA. "We welcome them back with open arms and look forward to the value they bring the rest of the IDC family."
Established in 1988, IDC-USA is a distributor-owned purchasing and national marketing cooperative of independent distributors of industrial bearing, power transmission and industry related products. The cooperative is comprised of over 200 independent distributor locations across North America representing over $1 billion in annual sales. IDC-USA's Distribution Center, IDC University and corporate offices are headquartered in Indianapolis, IN. IDC-USA serves the western half of the United States from its Reno, Nevada distribution center.