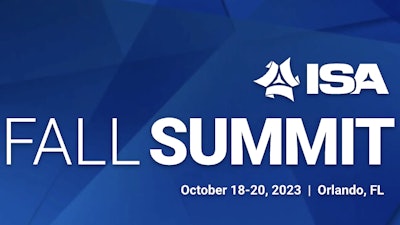 ISA
ORLANDO, Fla. — At the recently concluded Industrial Supply Association's Fall Summit held at the Orlando Hyatt Regency, nearly 230 attendees converged, creating an atmosphere brimming with enthusiasm, commitment, and vision.
From the moment Brendan Breen, ISA's CEO, stepped on stage, the essence of the summit was clear. His words, "We all have the opportunity to be part of something greater," resonated throughout the conference, setting a compelling tone of unity, aspiration and shared purpose.
Promised as a platform to glean insights, hone skills and form lasting connections, the Fall Summit exceeded all expectations. It was a seamless blend of relevant content, dynamic networking and sheer enjoyment.
The summit was energized from the outset, with retired Navy Seal Stephen Drum's stirring keynote, "Life on the X!", shedding light on handling life's inevitable ebbs and flows, both on the professional front and in personal life.
Three content tracks followed: Women in Industry, Emerging Leaders, and Channel Pros, each meticulously curated, offering attendees a diverse array of transformative insights.
But the Summit was about more than just content. The heart of the event lay in its focus on human connections. A slew of creative networking events prompted attendees to step out of their traditional zones, fostering fresh collaborations and budding friendships. The sound of spirited conversation echoed throughout, testament to the Summit's success in facilitating genuine connection.
"At this year's Fall Summit, we witnessed the fusion of knowledge, innovation, and collaboration. Our attendees, from diverse backgrounds and expertise, came together with a shared purpose – to uplift themselves, each other, and the entire industry. Their passion and engagement have reinforced our belief that when we come together, we don't just grow as professionals; we evolve as a community. This summit is a testament to the boundless potential that lies ahead for our industry," said Brendan Breen, CEO of ISA.
Not to be overlooked, the private reception for the Emerging Leaders Channel Certification (ELCC) program participants and ISA Board Members was a roaring success, leaving ELCC students united and inspired. Meanwhile, the Pickleball Tournament was a surprising delight, with a perfect blend of fun and purpose, managing to raise $3,000 for the esteemed local charity, Give Kids the World Village.
The Women in Industry reception at Cuba Libre was a hub of animated interactions, while the Emerging Leaders found camaraderie at Kings Entertainment with bowling, brews, and billiards — a novel approach to networking that left everyone buzzing with excitement.
As the summit drew to a close, attendees were treated to a profound session by Dirk Beveridge, Founder of UnleashWD and Executive Producer of We Supply America. His keynote, focused on 'Leading as a Force for Good,' wasn't just a presentation—it was a clarion call. Beveridge passionately conveyed the importance of not just leading, but leading with purpose and intent. The essence of his message? Harness the inherent potential within businesses to lead as a force for good. Attendees walked away with more than just strategies; they left with a renewed vision for the future and the difference their businesses can make in the world.
As attendees bid adieu to the summit, they left with more than just memories. They departed with new relationships, actionable insights, and renewed vigor to elevate themselves, their organizations, and the industry at large. ISA's Fall Summit has not only kept its promise but has set a new benchmark for industry gatherings.