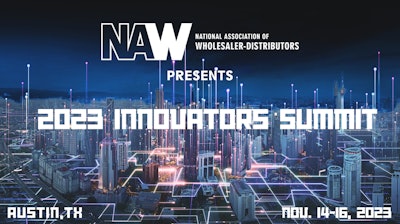 NAW
WASHINGTON — The National Association of Wholesaler-Distributors on Friday announced an exciting addition to its growing list of industry innovator speakers for the upcoming NAW Innovators Summit, powered by Applico.
The summit will take place Nov. 14-16 in Austin, Texas.
NAW strives to enlighten and empower distributors to stay at the forefront of industry progress. The association announced that Kathy Mazzarella, chairman, president and CEO of Graybar, will be a part of our CEO panel. Mazzarella, a well-known industry leader, will share the insight and wisdom she's gained after more than 43 years at Graybar.
Mazzarella participated in the Innovators Summit last year, and said this about it:
"In 2022, I was honored to be part of the inaugural Innovators Summit presented by NAW and Applico. As chairman, president, and CEO of Graybar, I understand firsthand the challenges facing our industry, and also the opportunities for distributors that innovate with technology to help their companies, their customers and their employees achieve more. This year's event will build on last year's foundation and provide new insights on how B2B companies are using these technologies to drive growth, productivity and profitability."