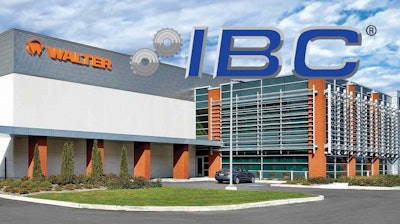 Industrial Buyers Consortium (IBC) announced Monday that Walter Surface Technologies — a supplier of abrasives, power tools, tooling, chemical and environmental solutions for the metalworking industry — has joined the IBC buying group.
Founded in Montreal, Quebec in 1952, Walter is known as one of world's largest metalworking suppliers. Its end markets include metal fabrication, transportation, energy, mining, forestry and lumber, food and pharmaceuticals. Walter's customers are across seven countries in North America, South America and Europe.
"We are very pleased to be part of this dynamic group of independent distributors, and are committed to working with all IBC members to help them gain and develop new customers," stated Chester Collier, senior vice president at Walter. "We joined IBC because we saw that the IBC recipe allows independents to grow their business based on local conditions, while providing national support and programs to help them achieve results in this very competitive environment. It is quite different from other groups in North America."
IBC's network of independent distributors serves industrial buyers in the automotive, aerospace, power generation, food and beverage, medical, chemical and paper industries, amongst others. IBC states that in the US, it is estimated that independent distributors account for nearly two-thirds of all industrial supply chain sales.
"We welcome Walter Surface Technologies, a world-class supplier, to the IBC community" stated Mark R. Higgins, IBC's director of business development, relations and recruitment. "The addition of Walter strengthens member choices in key categories and adds new product categories to IBC supplier portfolio. The growth opportunities are plentiful; we see this as a win-win."
On Sept. 21, private equity firm ONCAP announced that it had acquired a majority stake in Walter Surface Technologies.