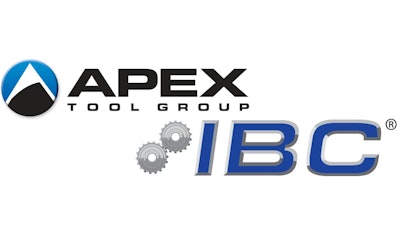 EAST GRANBY, CT — IBC announced Nov. 18 that Apex Tool Group (ATG), one of the world's largest manufacturers of professional hand and power tools, has joined its industrial buying group. Headquartered in Sparks, MD with operations in more than 30 countries, ATG is the source of more than 30 innovative brand name products used in vehicle assembly, aerospace, utilities/energy markets and electronics assembly.

ATG's tool brands include:
GEARWRENCH sockets, wrenches and ratchets; Crescent wrenches and mechanics hand tools; Crescent WISS snips, scissors, shears, safety knives and trade tools; Crescent Lufkin measuring tapes, rules and wheels; Crescent Nicholson files, rasps, and saws; Crescent Jobox storage products and safety cabinets, and Campbell chain and fittings are widely used in industrial, automotive, construction and DIY applications.
CLECO and APEX  power tools encompass electric, pneumatic and air tools, as well as high performance bits, torque measurement, metal cutting and drilling solutions.
Weller is a globally recognized manufacturer of hand-held, bench-top and automated soldering tools for industrial, trade and consumer use. Cutting, desoldering, motion control, fume extraction and filtration solutions add to Weller's wide array of industrial use products.
"Apex Tool Group brings numerous flagship brands in several key product categories to the IBC industrial buying group. Having ATG in our preferred supplier family greatly enhances the portfolio of high-quality, solutions focused products available to our members and their end user customers," stated Mark R. Higgins, IBC business development, relations and recruitment.

Industrial buyers served by the IBC network of independent distributors represent the automotive, aerospace, power generation, food and beverage, medical, chemical and paper industries, among others. In the U.S., it is estimated that independent distributors account for nearly two-thirds of all industrial supply chain sales.
For more information about Apex Tool Group, contact Scott Stephens, regional sales director, at scott.stephens@apextoolgroup.com or visit www.apextoolgroup.com.
For more information about IBC, contact Mark R. Higgins, business development, relations and recruitment via email at mhiggins@industrialbuyers.com or visit www.industrialbuyers.com.