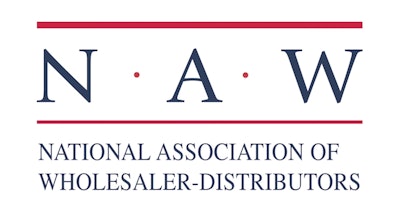 WASHINGTON, DC — Directors of the NAW Institute for Distribution Excellence, the long-range research arm of the National Association of Wholesaler-Distributors (NAW), during its Spring Meeting in Washington, DC, this week, elected:
Ron Calhoun as Chairman of the NAW Institute Board. Mr. Calhoun is President and CEO of The Palmer-Donavin Mfg., Co., a wholesaler-distributor of residential building materials in the Midwest, and headquartered in Grove City, OH. Mr. Calhoun succeeds Joseph Nettemeyer, President and CEO of Valin Corporation, headquartered in Sunnyvale, California.
Says Mr. Calhoun of his new post, "Our management team at Palmer-Donavin has read several of the NAW Institute's research studies over the years and gotten valuable results. I believe the NAW Institute continues to do groundbreaking research and I look forward to working as its Chairman and contributing to its ongoing research work for our industry."
In addition to Mr. Calhoun's election, the following wholesale distribution industry leaders were elected as Directors of the NAW Institute Board for four-year terms:
Victor R. Jury, Jr., Chairman and CEO, Summit Electric Supply, headquartered in Albuquerque, NM. Summit Electric is an independent, privately held, wholesaler-distributor of industrial electrical equipment and supplies with locations in the Southwest United States and the Middle East.
Joseph S. Poehling, Chairman and CEO, First Supply LLC, headquartered in La Crosse, WI. First Supply LLC is a distributor of plumbing, heating, industrial, utility, pump, well, and building supplies serving contractor, industrial, and home center accounts in Wisconsin, Minnesota, Northern Iowa, Northern Illinois, and the Upper Peninsula of Michigan.
Joseph M. Thompson, Jr., Founder and CEO of Thompson Management Associates, LLC, headquartered in Annapolis, MD. TMA is an association management firm serving seven industry trade associations, including several representing wholesale distribution companies. Mr. Thompson is Executive Vice President of The Association for Hose & Accessories Distribution.
Re-elected to the NAW Institute Board was:
Doug York, President and CEO - Ewing Irrigation Products Inc.
The balance of the NAW Institute Board includes:
Tim Buche, President and CEO - Motorcycle Industry Council
Talbot Gee, Executive Vice President and COO - Heating, Air-conditioning & Refrigeration Distributors International
Kevin Kampe, President - Womack Machine Supply Co.
Patricia Lilly, Executive Director - Fluid Power Distributors Association, Security Hardware Distributors Association, and Wholesale Florist & Florist Supplier Association
Jeff McLendon, President - U.S. Lumber Group
Michael Medart, President and CEO - Medart Marine
Thomas Naber, President and CEO - National Association of Electrical Distributors
George Pattee, Chairman - Parksite, Inc.
Larry Stoddard, President and CEO - RelaDyne
Ralph Suppa, President and General Manager - Canadian Institute of Plumbing & Heating
Bruce Zwicker, President and CEO - JJ Haines & Co. Inc.
The National Association of Wholesaler-Distributors (NAW) was created in 1946 to deal with issues of interest to the entire merchant wholesale distribution industry, thereby freeing affiliated associations to concentrate on the concerns specific to their lines of trade. NAW is a federation of about 100 wholesale distribution associations and thousands of individual firms that collectively total more than 30,000 companies.