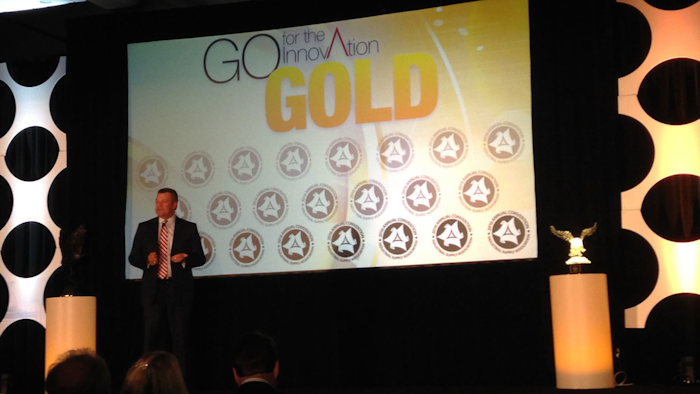 The Industrial Supply Association's Annual Convention and Trade Show took place this April 16-18 in Rosemont, IL, where Industrial Distribution attended along with more than 140 different pre-registered industrial distributors.
With the over-arching theme "Go for the Innovation Gold," the event was held at the Donald Stephens Convention Center, right next to O'Hare airport. While not quite in Chicago, it was close enough for attendees to feel the impressions of The Windy City.
Besides the opening and closing parties, special interest group summits and professional development sessions, the non-expo portion of the event was highlighted by the convention's opening session.
To begin, ISA outgoing chairman Craig Vogel — a Chicago-native — discussed how the industrial distribution sector is much like the blue-collar city in that it isn't glamorous or subject to fad or fashion.
Vogel commented how those industrial distributors that have failed to innovate are the ones that haven't survived. He mentioned ISA's innovations with recognizing the potential and value of getting more women into the industry with the creation of W.I.S.E. (Women Industrial Supply Executives), the creation of the Emerging Leaders Summit, and how ISA has brought its special interest group Industrial Manufacturers Representative on as a full-time member.
Vogel used the analogy of Chicago Cubs' great Ernie Banks, who played 19 years for the Cubs and never played in a postseason game, yet what people remember about him was his desire just to play the game. 
Hernàn Luis y Prado, a U.S. Navy officer, then came on stage to discuss the efforts of Workshops for Warriors, a San Diego-based manufacturing training center for Navy Veterans. Founded by Luis y Prado in 2008, Workshops for Warriors provides year-long training and job placement to veterans at no-charge to them, a $25,000 value. Between the opening session Saturday night and the end of the trade show at 4 p.m. Monday afternoon, ISA attendees had donated more than $12,000 to the center's scholarship fund.
ISA president Jeff Hughes discussed the challenges facing the industrial supply industry as a whole and what must be done to combat them, and he was followed by ISA Education Foundation chairman John Jacobsen, who introduced ISA's biggest awards.
The Gary L. Buffington Memorial Scholarship was presented to Western Michigan University's Aaron McClendon
The American Eagle Award for Excellence in Industry (presented by ISA past president Tommy Thompson) was presented to Stellar Industrial Supply and Sandvik Coromant for their partnership that saved a customer $120,000 and increased its productivity more than 200 percent with by implementing a single tool.
The John F. Buckley Life Time Achievement Award was presented to Martin Supply chairman Don Ruggles, honoring his 56-year career with Martin and his role in merging associations to create ISA during 1992-1993.
From there, the stage was handed over to keynote speaker, Ken Schmidt, the former director of communication strategy for Harley Davidson. Schmidt gave an enthusiastic and entertaining 90-minute keynote all about business reputation, and how in an industry where more and more companies (like distributors) are selling the same products, it's reputation where the competitive difference comes. He stressed how the days of having the best product being a competitive advantage are long gone and how what matters most is what customers and potential customers are saying about you.
The Distributor Day (Sunday) and Supplier Day (Monday) trade shows dominated the next two days, where I put in a lot of miles on the show floor making new introductions and catching up with past distributor and manufacturer contacts.
Stay tuned to ID online, as I'll be posting many follow-up blogs about the ISA convention. Some of the interviews I conducted included ISA president Jeff Hughes and Workshops for Warriors founder Hernàn Luis y Prado, as well as ISA vice chairman and Stellar Industrial Supply CEO John Wiborg. I also spoke with members of the industrial distribution departments of Texas A&M University and the University of Nebraska-Kearney.