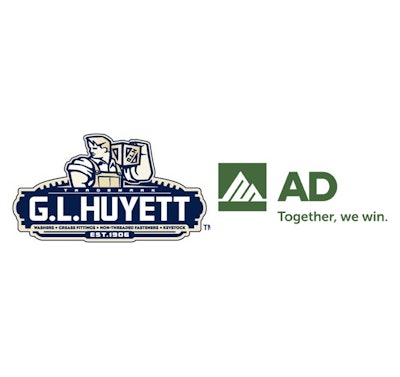 Minneapolis, Kansas — G.L. Huyett, a manufacturer, master distributor, and importer of non-threaded fasteners, grease fittings, and engineered fasteners, proudly announces their partnership with Affiliated Distributors' Industrial Supply and Bearings & Power Transmission Divisions.
Affiliated Distributors is a member-governed coalition of driven entrepreneurs and strong independent best-in-class manufacturers and distributors of industrial products. Together, over 570 members with more than 3,600 locations represent over $31 billion in annual sales in seven major industries – Bearings and Power Transmission; Building Materials; Electrical; HVAC; Industrial; Pipe, Valves, and Fittings; and Plumbing.
Since being named a select supplier for both the Industrial Supply and Bearings & Power Transmission Divisions in October 2015, G.L. Huyett's former VP of Sales, Paul Sellers, has transitioned to Corporate Business Development Director. Sellers will lead the charge to manage and strengthen existing partnerships and develop new customer relationships while providing knowledgeable sales support.
"Utilizing the Affiliated Distributors network provides G.L. Huyett the opportunity to serve industrial MROs, commercial and residential construction, utilities, retail, and government customer markets," explains Sellers. "The Industrial Supply Division represents over $5.3 billion in sales within the AD network – second only to the Building Products Division in share. This is where G.L. Huyett has the greatest potential for success."
Of the 165 companies within the division, G.L. Huyett has developed relationships with about 1/3 of them. Some Industrial Supply Division members are among the top 50 Industrial Distributors in North America. While G.L. Huyett's offerings represent only a small part of their product mix, the Company sells a diverse range of hard to make, hard to find, and hard to buy fasteners necessary to the ongoing success of American Industry.
Dan Harriger, G.L. Huyett's Vice President of Sales, tell us "The initial interest level has been outstanding. Over time, I see our association with Affiliated Distributors becoming a greater part of our business as we add new products, dislodge competitors, and strengthen our relationships with our customers."
G.L. Huyett has been distributing a broad range of fasteners for over a century. In the '90s, they began to expand their product lines, added manufacturing and finishing capabilities, expanded facilities, and updated technology.
"We have worked hard to establish ourselves as reliable partners to Integrated Supply Distributors, Wholesalers, Hardware Retail Support Distributors, Catalog and Direct Marketing Companies, and Power Transmission Distributors," adds Tim O'Keeffe, G.L. Huyett's CEO.