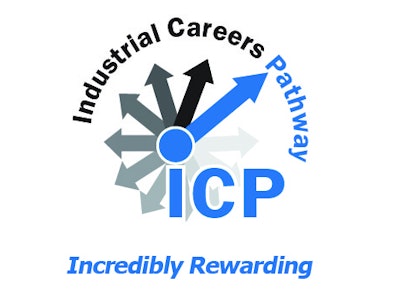 CHICAGO — A primary focus for Industrial Careers Pathway (ICP) is to advocate for more participation by distributors in career fairs, classroom talks and company tours as research has shown these types of events help young people learn about industrial distribution as a career choice in their local communities.
Leading by example, ICP participated in Chicago Heights, IL-based Prairie State College's Manufacturing Day career fair on Oct. 1. Piggybacking on manufacturing's big day, the goal is to build awareness of the incredibly rewarding careers to also be found in industrial distribution, along with those from the industry's manufacturing partners.
Chirag Patel, general manager, Elk Grove Village, IL-based Radicon USA, a manufacturer of reducers, assisted ICP staff in hosting the booth. By participating, he helped educate more than two hundred college and high school students who walked the career fair floor learning about the many career opportunities available. Radicon USA is a member of PTDA whose PTDA Foundation owns and supports the Industrial Careers Pathway initiative, along with a variety of Alliance Partner distribution associations and their member companies. Patel volunteered to work the booth as a member of the ICP Ambassador Corps whose 100+ members participate in local events across North America.
"Participating in this career fair was absolutely refreshing," Patel said. "I had the opportunity to meet young adults who were eager to learn and explore employment, some even seeking to build a career in power transmission. I also met faculty members who were anxious to help cultivate programs to prepare students to be better suited for our future recruitment needs. It was a fruitful day. I was energized by the environment and have a few candidates for some of our entry level positions."
Patel learned about ICP through his involvement in PTDA and volunteered as an ICP Ambassador. Any employee whose company is a member of an ICP Alliance Partner association can become an ICP Ambassador Corps volunteer. In addition to providing visibility about entry level careers in industrial distribution, ICP develops and delivers useful programs, services and tools to help industrial distributors recruit, on-board, hire, manage, train and retain entry-level employees. An example is the training program, Elements of Industrial Distribution, which is available at a discount for companies with membership in ICP partner associations. ICP also publishes the ICP Talent Tipsheet, a quick-read eblast that helps employers retain and manage Millennial employees and is a great resource for human resource professionals.
ICP is a multifaceted North American workforce initiative supported by an alliance of industry associations including American Supply Association, Industrial Supply Association Education Foundation, National Association of Chemical Distributors, National Association of Electrical Distributors, NAHAD-The Association for Hose & Accessories Distribution, NIBA-The Belting Association, and PTDA Foundation. ICP links students and job seekers to career paths in industrial distribution and manufacturing through partnerships with local educators and employers.