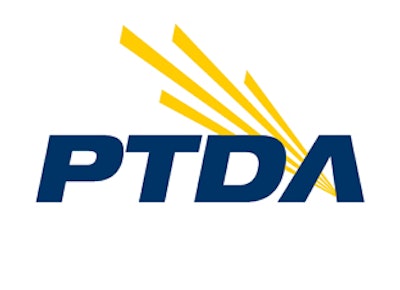 Chicago, IL - The 3Q12 PTDA Business Index produced a reading of 50.3, which represents a deceleration from the 2Q12 reading of 54.2. This indicates that the power transmission/motion control (PT/MC) industry expanded for the 10th consecutive quarter at a slower pace compared with 2Q12.
Both distributors and manufacturers reported decelerated sales growth compared with the last quarter. On average, sales rose 5 percent in 3Q12, down from the 7 percent growth seen in 2Q12. Distributor sales growth grew 5 percent in 3Q12 down from 6 percent in 2Q12. Manufacturers also reported decelerated sales growth of 6 percent in 3Q12, compared with 8 percent growth last quarter.
[Note: The index reading indicates the rate of change compared with the previous period. For example, a reading of 50 indicates no change from the prior period while readings above 50 indicate growth and below 50 indicate contraction. The further the index is above or below 50 suggests a faster or slower rate of change.]
The table below provides an overview of the results from the 3Q2012 index and a comparison with 2Q2012.
PTDA Quarterly Business Index
2Q2012
3Q2012
Business Activity
50.1
48.2
New Orders
49.2
45.0
Employment
64.2
59.5
Supplier Deliveries
53.2
48.6
Inventories
66.9
65.9
Prices
65.7
71.2
Backlog
54.8
41.8
Overall PTDA Index
54.2
50.3
PTDA members expect 2013 to be another year of growth, with an average forecast of 6 percent. Notably, 83 percent of distributors and 78 percent of manufacturers surveyed expect positive growth in 2013.
The PTDA Business Index full report is available through PTDA's website at www.ptda.org/BusinessIndex. It includes U.S. and Canadian breakout data in addition to historical data. Conducted jointly by PTDA and Cleveland Research Company, the PTDA Quarterly Business Index was modeled after the widely respected Purchasing Managers Index and tracks change in business activity, new orders, employment, supplier deliveries, inventories, prices and backlog in the PT/MC market to arrive at an overall index.
---
Chicago, IL — The Power Transmission Distributors Association (PTDA) launched its newly redesigned website at www.ptda.org. The new website is cleaner and easier to navigate than ever before. Powerful search tools make it a cinch for users to find relevant industry information and to locate distributors and manufacturers throughout North America and beyond.
A fresh, mobile-friendly design makes the site accessible for those on the go as the new site displays well whether users are on tablets, cell phones or desktops.
In addition, the site offers loads of industry-specific content. While some of it is accessible only to members, much of the information—such as guidelines and formats—is publicly available with just a few additional steps. One true member benefit of the new site: Members can now quickly and easily access and update their online profiles.
PTDA thanks the Communications Committee and the Website Redevelopment Task Force for the valuable input they provided during the website redevelopment process. Their time and efforts not only made the new site possible but also helped ensure the new site meets members' needs.
Founded in 1960, the Power Transmission Distributors Association (PTDA) is the leading association for the industrial power transmission/motion control (PT/MC) distribution channel. A U.S.-based trade association, PTDA represents 171 power transmission/motion control distribution firms that generate more than $11 billion in sales and span 3,400 locations in the United States, Canada and eight other countries. PTDA members also include 179 manufacturers that supply the PT/MC industry.
PTDA is dedicated to providing exceptional networking, targeted education, relevant information and leading-edge business tools to help distributors and manufacturers meet marketplace demands competitively and profitably. For more information, visit www.ptda.org.