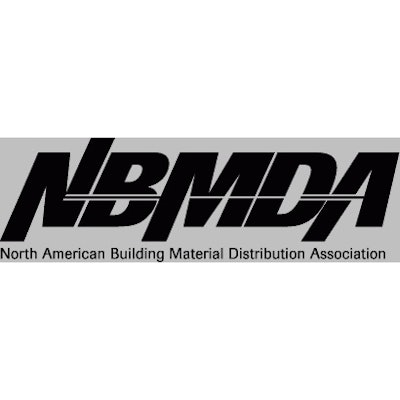 CHICAGO — The North American Building Material Distribution Association (NBMDA) recently recognized several distributors and manufacturers for their long time membership with the association.
In 2014, 13 firms celebrated milestone membership anniversaries, ranging from ten to sixty years of membership. During the 2014 NBMDA Annual Convention, NBMDA recognized a number of these firms for their anniversary.
"We are excited to acknowledge these members for their long time support and dedication to the association," NBMDA Executive Vice President Kevin Gammonley said. "The commitment of our members provides greater networking opportunities and increases the overall value of NBMDA."
There were 8 distributor and 5 manufacturer firms recognized for milestone anniversaries:
Sixty Years of Membership: Distributor - Building Material Distributors, Inc., Galt, Calif.
Forty-Five Years: Distributor - Amerhart Ldt., Greenbay, Wisc.; Distributor - McFadden's Hardwood & Hardware, Oakville, Ont., Canada
Thirty Years: Manufacturer - Rollex Corporation, Elk Grove Village, Ill.
Twenty-Five: Distributor - Can-Cell Industries Inc., Edmonton, Alta, Canada
Twenty Years: Manufacturer - CompX Security Products, Mauldin, S.C.; Manufacturer - Deerwood Fasteners, Conover, N.C.
Fifteen Years: Distributor - Manhattan Laminates, New York, N.Y.; Manufacturer - RPC-Terry Hardware, Rockford, Ill.; Distributor - Wood Stock Supply, Inc., Rapid City, S.D.
Ten Years: Distributor - Central Florida Cabinet Supply, Apopka, Fla.; Distributor - Central Wholesale Supply Corporation, Norfolk, Va.; Manufacturer - Pro-Ply Custom Plywood Inc., Brampton, Ont., Canada
NBMDA is a trade association representing wholesale distributors of wood panels, surfacing materials, cabinet hardware, finishes, and related products. Membership is comprised of distributors and manufacturers that serve the independent building material, lumber, and kitchen and bath dealer, regional and national home centers, as well as those that serve production companies involved in cabinetry, architectural woodwork, stock woodwork, store fixtures, solid surface fabricating, plastics fabricating, general and specialty woodworking industries. For more information, visit www.nbmda.org.