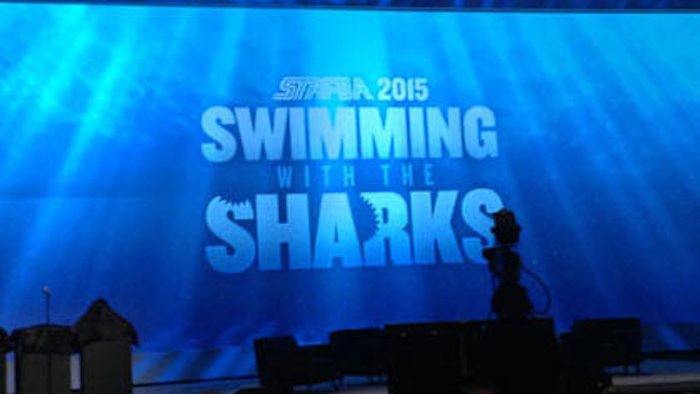 Did you attend STAFDA 2015 in Phoenix during Nov. 8-10? It was one of the last industrial association events before the weather gets nasty around much of the country. Bringing together industry leaders and STAFDA members from all over, the Specialty Tool and Fasteners Distributors Association once again provided a great opportunity for attendees convene and take part in educational programs, seminars, and a trade show that is always well attended by leading manufacturing, distribution, and rep agencies within the industry.
Read More: What Wowed ABC's 'Sharks' at STAFDA 2015?
For me, as an editor, conventions like these are a great way to stay on top of the latest trends among industrial distributors of all sizes, distributor-manufacturer relations, and product trends. And when they're in southern cities like Phoenix during November, they're a good way to escape Wisconsin weather.
Since there's not much difference between the trade show/expo portion of conventions, my efforts usually focus on the events before the trade show begins. These events include individual presentations and workshops, and of course, the general session.
As with all industrial conventions, the general session was of most interest to me going into STAFDA, and it didn't disappoint.
Free Whitepaper: What Customers Are Really Paying For Your Products
After STAFDA President Rod Gowett and VP Terry Earle (incoming president) introduced the association's officers, directors, & liason committees, along with new and retiring members, executive director Georgia Foley led off the morning of Nov. 9 with a membership update. The STAFDA figures included the following as of that morning:
1,059 distributors
1,177 manufacturers
314 rep agents
20 press affiliates
2,567 total members
"Our world continues to get smaller with mergers and acquisitions across every membership category," Foley said. "The increasing trend we're seeing are more STAFDA members merging together so if you look at it in this regard, STAFDA is getting a little taller, but a lot wider."
Foley promo'd its upcoming training manual focusing on inside sales and service, researched and written by the father-son sales guru combo of Tom and Paul Reilly – both regular content contributors to Industrial Distribution. The book will look at counter sales and the service desk, and will serve as STAFDA's first inside sales book since 2010. The Reillys held a workshop at STAFDA on 9/8 based upon the new book, Inside Sales & Service Pro, which will be available in early 2016.
A good chunk of Foley's opening address was about industry education and employee recruiting – and rightfully so. She promo'd the annual University of Innovative Distribution – a 4-day program focused on the unique needs of the industrial distribution industry. This year's UID will be held March 6-9 in Indianapolis, and STAFDA is offering 15 scholarships to the event that distributor members can apply for to send one of their employees to.
Foley said one of the questions STAFDA often gets is about the creation of a job board for recruiting employees. She touched on the work being done at Industrial Careers Pathway – an organization formed by a handful of industrial associations aimed at raising awareness of careers in industrial distribution. She commented that while ICP is a good resource, it is limited for STAFDA members. "They've done a great job. But until they expand their very narrow industrial focus to account for construction, material handling, HVAC, and other major facets of distribution – this will not be an option for STAFDA," she said.
Foley said STAFDA 2015 had more than 4,000 pre-registered attendees as of Nov. 5, and expected another 250-300 onsite walk-ons. That estimate was quite accurate, as the official final attendance was 4,307.
Following Foley, outgoing president Gowett told the story of his former company, Bay Tool Supply, and how it made it through the 2001 recession, and shared his concerns for mid-sized distributors moving forward. I'll dive deeper into the latter in an upcoming blog. He went on to touch on differentiation, finding new talent, and leadership succession.
Shark Tank Keynote
The Keynote speakers for STAFDA 2015 were three stars of ABC's Shark Tank, a reality TV show where entrepreneur contestants make business presentations to a panel of "shark" investors. Those stars were Lori Greiner, Daymond John, and Kevin O'Leary. Greiner is a reknown inventor and investor of retail products, and has been called "the Queen of QVC." John is best-known as the founder and CEO of clothing line FUBU, while Softkey founder O'Leary is hailed as the Donald Trump of Canada.
Foley led the three Sharks in a discussion, having the three share some of their entrepreneurial advice. Out of the back-and-forth, here's what I thought was each speaker's most notable line(s) of advice:
O'Leary: The same people who were the core at your company's beginning aren't the same who will be the core at the end.
Greiner: There aren't really mistakes, there are lessons. Having to wear all hats in your business helps you learn everything. Ask for help sooner. It's very hard to give up control when you've created a product. Hire on key people in early days who can help.
Green: In this digital market, you access to customers at your fingertips for retargeting. People are doing millions in sales out of their iPhone or iPad. You have to understand social media and it's power in following up.
After the discussion, Foley led the Sharks in presenting them with five anonymous products submitted by STAFDA manufacturer members, which were reviewed and ranked. The Sharks unanimously loved an innovative new gas can from SureCan USA, and were also high on a hitch-mounted truck crane from Vestil Manufacturing. Read more about the Sharks' thoughts on those two products, and both companies' response in my blog here. The three other products included a flood-restoration vacuum, a self-undercut anchoring system, and a hydrophobic kitchen and glass sealant – each of which received mixed reviews from the Sharks. Unfortunately for their manufacturers, the Sharks simply didn't grasp the function of those three products nearly as well as the first two, which led to lower reviews.
All in all, the Sharks' reviews was a very entertaining segment.
More on STAFDA
Stay tuned to IndDist.com for more coverage out of STAFDA, including more about association president Rod Gowett's comments about mid-sized distributors, and my recap from Bruce Merrifield's workshop presentation, "Amazon Business: New Competitor and Role Model," which I attended on Nov. 8.
Next year's STAFDA Convention and Trade show is Nov. 6-8 in  Atlanta at the Georgia World Congress Center.