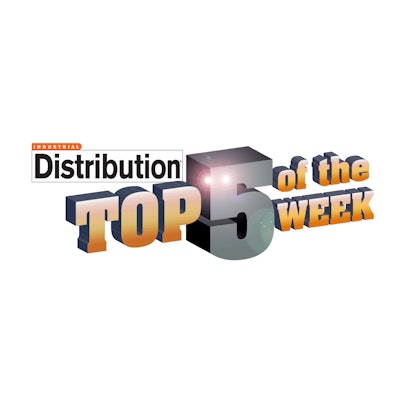 ​After a relatively quiet period for major acquisitions involving ID's Big 50 companies, Air Liquide made a huge splash this week with its $13.4 billion purchase of Airgas. Including that news, this week's Top 5 includes a good balance of acquisitions and thought leadership.
Here's this week's Top 5
Air Liquide Buys Airgas For $13.4 Billion: In one of the largest industrial acquisitions in recent years, Air Liquide has agreed to purchase Airgas for $13.4 billion, the companies announced Tuesday. The landmark deal will significantly strengthen Paris, France-based Air Liquide's industrial gas supplying position in North America. Bloomberg reported Tuesday that with the deal, Air Liquide becomes the world's largest industrial gas supplier by sales, leaping Linde AG, Air Products & Chemicals, and Praxair. The purchase price of Airgas was $10.3 billion, and Air Liquide is also assuming $2.8 billion of Airgas debt.
The Don'ts Of Attending A Trade Show: Following the recent STAFDA 2015 Convention and Trade Show in Phoenix, this piece byCutwater Solutions' Michael Quinn discusses how while trade shows tend to make attendees want to feel like they're on vacation, it's important to remember why they're there in the first place. Here, Quinn gives tips on how to get the most of the experience for you and your company.
Hitachi Buys German Power Tool Maker Metabo For Reported $180 Million: Hitachi Koki Co. has announced that it will acquire full ownership of Nurtingen, Germany-based Metabo Aktiengesellschaft from its parent company Power Tool Invest B.V. While Hitachi didn't disclose financial terms of the deal in its press release, Pro Tool Reviews reports that Metabo was acquired for $180 million. Metabo's reputation focus on its grinding products in the European market, though its tools are used by professional users and pipefitters worldwide. The company has sales offices in 25 countries. Tokyo-based Hitachi said the addition of Metabo's strong brand name will gain it a strong sales channel in Europe, particularly in Germany, and boost Hitachi's procurement ability in Europe, which could reduce its Euro exchange risk.
Selling Managers Who Also Sell: A Bad Idea: Sales guru Tom Reilly discusses how just like a player-coach in sports usually doesn't work out, the same goes for business with a sales manager who also sells, as their attention and priorities become divided.
The Top 5 Warehouse Management Trends Of 2015: Denny Hammack, President of Patterson Pope, examines the latest warehouse operations and management innovations distributors have used this year to keep up with demands.