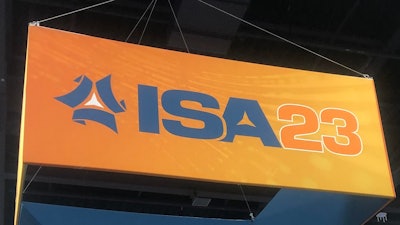 When we interviewed Industrial Supply Association President Brendan Breen back in February, he told us he was approaching this year's ISA convention with a clear directive from association members to "make it the best networking event in the industry."
And fresh off the event, held April 17-19 in Phoenix, it's clear that ISA took that to heart.
Taking pains to address the needs of an industry back on the trade show scene and anxious for face-to-face business meetings, ISA23 offered many opportunities to connect, engage, and network with industry peers, colleagues, and partners through a mix of different experiences — including receptions, happy hours, networking lounges and lunches, as well as two days of conferences and trade show displays.
Notable Achievements
ISA's event also included some announcements and awards.
This year's John J. Buckley Lifetime Achievement Award – what the organization refers to as "the highest honor bestowed by ISA to an individual in the MROP channel for their longstanding service in the industrial supply industry" – went to Craig Vogel. Vogel has spent more than 35 years in the industry, most recently as vice president of industrial sales for Stanley Black & Decker.

According to Breen, "Craig Vogel is the embodiment of what this award stands for. During his time as Chairman of the ISA Board, he selflessly helped the organization navigate challenges and opportunities with vision and purpose. He stands as a role model and a true servant-leader for all ISA volunteers to follow."
ISA's 2023 Women's Influence Award went to Kim Shacklett, senior vice president of sales and customer success at MSC Industrial Supply Co. The award, according to ISA, "recognizes the commitment to encouraging diversity within the workplace while supporting and recognizing the strength and value that women bring to our companies and to the industrial supply channel at large." Shacklett's talents were lauded by MSC President and CEO Erick Gershwind, who called her "one of the best leaders I have come across in my entire career."
Walton, Beaulieu Bookend Educational Content
This year's event also focused on educational content, kicking off with a keynote address from basketball legend Bill Walton. In his presentation – "Competing to Win: Creative Imagination Defeats Stronger Competitors" – Walton entertained and motivated attendees through his message on perseverance and determination.
Additional event content included workshops on sales and marketing, talent acquisition, CRM, e-commerce and more.
ISA closed its event with a presentation by well-known industry economist Alan Beaulieu, Ph.D., president of ITR Economics. Beaulieu's talk, on "Gauging the Risks Going Forward, 2023-2024," looked to identify trends that offered insight into what attendees could expect for the future of the industry.
Despite the gloomy reports that portend economic turmoil, Beaulieu expects 2024 to be essentially flat and encouraged manufacturers and distributors to "ignore the political noise." While he cautioned there will likely be a mild recession in late '23 and all of '24, he also added that businesses should consider continued investment and eye "good opportunity for organic growth in 2025."
Beaulieu also believes that a tight labor market will continue to impact industrial companies, though wage disinflation may begin to take place in 2024 as economic softness means employees are more likely to stay. He also pointed to decreasing inflation and potentially lower interest rates in 2024, though he cautioned businesses that efficiency improvements are a must in order to maintain their competitive advantage.
Looking Ahead
As attendees emerged from the event with the refined insights gained from educational and networking events, ISA added one more tool to the toolbox: the organization's new Emerging Leaders Channel Certification (ELCC).
ISA announced the new program at the Phoenix conference, an opportunity officials described as "a multi-layered, channel-centered certification program designed to develop the next generation to lead."
Born of the ISA Emerging Leaders Committee, this program is a resource "that companies within the industrial MROP industry have needed for years," according to Alex Ruggles, immediate past chair of the committee and director of customer service at Martin Supply Inc.
According to ISA, lesson plans within the course curriculum "develop core fundamental skills, strengthen knowledge of the channel alignment framework, and create a strong industry network."
Students enrolled in the program will participate in an eight-week live, instructor-led online class. They will also attend in-person events for professional development, leadership training and relationship building, while gaining exclusive access to on-demand training and development content — all designed to hone the hard and soft skills required to achieve growth and company success.

Enrollment for the Emerging Leaders Channel Certification is now open. The course starts July 13 with a limited class size.
Learn more about the ELCC program and enroll at www.isapartners.org/elcc.
"A Home Run"

In Breen's opinion, this year's event was "a home run." The ISA president noted that from the start of the convention through the end, the energy was high and people were excited: "We received a lot of positive feedback on the new format and the focus on making ISA23 the best networking event in the industry. That's what it's all about – building relationships and leading the Channel forward and we did just that at ISA23.

"We're going to use what we learned from this year's event," he added, "to create an even more incredible, unforgettable ISA24 for our members in Charlotte, North Carolina next year."

For more information on ISA, visit www.isapartners.org.