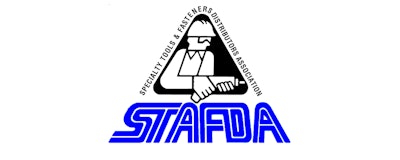 Elm Grove, WI — New leadership was elected by members of the Specialty Tools & Fasteners Distributors Association (STAFDA) during the Association's 42nd Annual Convention & Trade Show in Phoenix, October 28-30. Following the event's General Session, Sean Baird, President and Owner of Hampton Roads Fastener & Construction Supply, Inc. (HRFCS), Virginia Beach, VA, took over the role of STAFDA President. HRFCS specializes in fasteners and construction supplies for new commercial construction and industrial accounts. They joined STAFDA in 2005.
Greg Hughes, President and Owner of Kinnunen Sales & Rentals, Inc., Stillwater, OK, was elected STAFDA Vice President. Joining STAFDA in 2006, Kinnunen serves the construction, residential, and industrial markets with three branches.
Four new Directors, each serving a three-year term, were also elected: Jay Amstutz, Ohio Power Tool, Columbus, OH; Allan Guthrie, DXP Enterprises, Omaha, NE; Steve Dunham, SASCO Fasteners, Medford, OR; and Jean-Roch Lavoie, Brocheuses Montreal, Inc., Anjou, QC.
New members of the Manufacturers Liaison Committee were also announced: Steve Lebar, Tru-Cut/Galaxy Industries/NEC, Inc., Cary, IL; Mark Lindstrom, Ergodyne, St. Paul, MN; Tony Mabry, Freud America, Inc., Atlanta, GA; and Tim Onello, JPW Industries, La Vergne, TN. Bob Cutler, CPMR, Cutler Industrial Sales, Inc., Islip Terrace, NY; and Brian Henson, Hennix Group, Mission Viejo, CA, joined the Rep Liaison Committee.
Elections are held every fall with results announced at the Annual Convention.