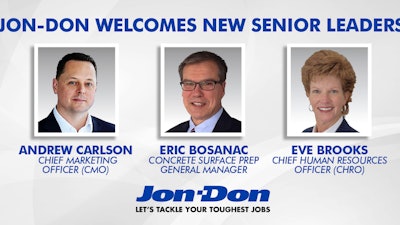 CHICAGO — Jon-Don, a leading supplier of commercial supplies, equipment, consumables and know-how to specialty contractors, announced three appointments to its executive leadership team.
Andrew Carlson joins as Chief Marketing Officer, Eric Bosanac as General Manager for the Concrete Surface Prep and Polishing business segment, and Eve Brooks as Chief Human Resources Officer.
Carlson has spent the past 12 years leading marketing, e-commerce, and digital transformation organizations in direct to end-user and channel focused B2B organizations. He was previously the VP of Marketing and eCommerce for Antylia Scientific, where he led global marketing and e-commerce. Prior to Antylia, Carlson spent 15 years working with specialty contractors at both Panduit and Brady Corporation.
Bosanac was previously the Director of Global Strategic Accounts at PPG, supporting customers globally for specifications and product development solutions. During his fourteen-plus years at PPG, he held various positions in sales management, business development and global operations. Previous to his work at PPG, Bosanac spent 23 years at The Sherwin-Williams Company, overseeing Marine Coatings, Protective Coatings for National Accounts and Focus Market Segments.
Brooks comes to Jon-Don with over 25 years of experience in Human Resources and Finance. Her most recent leadership role was as VP & CHRO and member of the Executive Leadership Team at AMES Taping Tools. Prior to joining AMES, Brooks served for five years as Vice President of Human Resources at Colonial Pipeline, the largest refined-product pipeline in the US. Prior to Colonial, Brooks worked for 16 years at Imerys, a multi-national industrial minerals company where she served in several senior Human Resources and Financial roles.
Carlson, Bosanac, and Brooks will join the other members of Jon-Don's Executive Leadership Team under Jay Davisson, Chief Executive Officer. Those members include Matt Tharp, Chief Financial Officer; Steve Porter, Chief Sales Officer; Ian Hartman, Vice President of Operations; Brad Hanson, Restoration & Professional Cleaning General Manager; and Bob Grosskopf, Auto Scrubber General Manager.
"I have full confidence in these leaders and their ability to drive Jon-Don's long-term success as the premier supplier for specialty contractors across a variety of industries," said Davisson. "Their talent and years of expertise will undoubtedly take Jon-Don into the next phase of strategic growth while upholding our company's values and commitment to providing world class service to our customers."