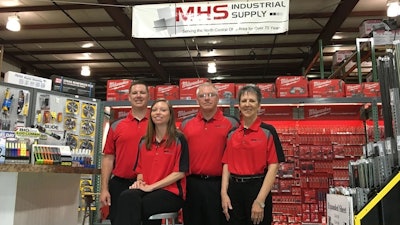 Mike Hockett/Industrial Distribution
MANSFIELD, OH — In its 80th year of business, MHS Industrial Supply has announced the transition of leadership to its third generation.
Philip Downs, company president from 1983-2020, retired on Nov. 10, after 45 years of dedicated service to the family business. Bradley Downs, son of Phil & Ann Downs (CEO) and grandson of Joseph Miller (president 1974-1983), has been promoted to the position of president. He joined the MHS team in 2012.
During Phil's tenure, the MRO products distributor accumulated almost $95 million in revenue, growing average monthly sales figures three-fold. Phil was counted on for his steadfast leadership, the pursuit of continuous improvement and staying true to the company's founding principles of quality and service. During his last years of service, Phil set the stage for many more years of success and growth. He established many critical vendor relationships, oversaw the relocation to a new facility to increase capacity, invested in new talent and technologies, and mentored Brad on all facets of the business.
Prior accomplishments under Phil's leadership include bolstering the industrial product lines through co-op membership, leading MHS through the crucial pivot to industrial and commercial accounts and bringing MHS into the digital age by adopting computerized systems. Phil joined the company in 1975.
Please join us in thanking Phil for his incredible impact on the business and the community and congratulating Brad on his new responsibilities as President of MHS Industrial Supply.
MHS was featured in Industrial Distribution's July 2016 Distributor Profile, and most recently featured in ID's March 2020 "Catching Up With..." series.