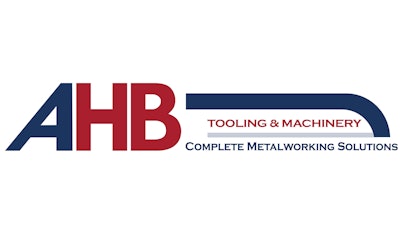 ROSEVILLE, MI — Metalworking industrial distributior AHB Tooling & Machinery (AHB) has announced the hire of Glenn Galli as director of new business development. Effective immediately, Galli will be responsible for developing the AHB field sales staff team and furthering relationships with new and existing customers. In addition, Galli will oversee growth efforts surrounding AHB's integrated supply program. 
"I am thrilled to be joining the AHB team," Galli said. "This is in an industry that's given me so much over the years. I'm excited to be leading this team of proven professionals and helping them to continue their growth and development. Our goal is to consistently deliver extraordinary value to our Michigan metalworking customers…and then raise the bar continually thereafter. I'm confident this opportunity will bring great enjoyment to this phase of my career."
Galli comes to AHB with 40 years of metalworking industry experience, including the past 14 at MSC Industrial Supply, where he most recently was senior team manager of national accounts. He entered the industry as a machinist and worked in varying capacities for 10 years. Galli used his metalworking knowledge to become a highly respected and award-winning field sales representative for more than 15 years. After continuously exhibiting leadership skills in his previous positions, he earned promotions to district manager, branch manager and finally to senior team manager. 
Throughout his career, Galli has won numerous sales awards for his work in field sales. Galli graduated from Macomb Community College, Magna Cum Laude, with degrees in AAS Manufacturing, AAS Business Management and AAS General Business. He also is certified as a journeyman machinist. 
"We feel fortunate to have Glenn on the team. Working with Glenn years ago, it was obvious how much he cares for customers and how serious he takes their concerns and challenges" said Jon Hays, co-owner of AHB Tooling & Machinery.
Kevin Hess, former owner of AHB Tooling & Machinery and current business consultant, maintains, "I've known Glenn for 35 years and have seen him excel in sales management positions like few others have.  His product knowledge and ability to apply it in all manufacturing arenas, coupled with his high level of management experience, will put AHB in a position to provide a new level of complete metalworking solutions to our customers.  I am personally very excited and proud to have Glenn join the AHB team."