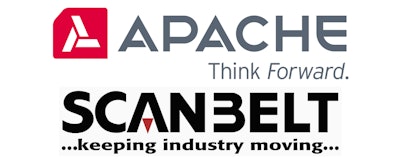 CEDAR RAPIDS, IA — Apache Inc. on Friday announced a strategic partnership with ScanBelt, adding the full suite of ScanBelt products to Apache's belt fabrication offering. This move enhances the company's current offering in heavy-duty and lightweight belting solutions to now include modular conveyor belting, accessories and fabrication.
"This was a perfect opportunity for Apache to take the next step in growth, and to add another product solution that furthers our footprint in the market as a full conveyor solutions provider," said Gregg Hanson, Apache Vice President. "With the breadth of our distributor and OEM partnerships throughout the US and Mexico, this is another bold step we are taking to solidify Apache's position as our customers' single-source for all their belting solutions. This is another bold step we are taking to change the current belt fabrication market by adding innovative solutions."
"Partnering with Apache is an excellent opportunity to expand our international network and improve the service and response time to our international as well as U.S. based OEM accounts and distributors," said Morten Vejlstrup, ScanBelt Owner/CEO. "With more than 30 years' experience in the modular belts industry, we have become a household name across industries worldwide, but when the chance to team up with a major player in North America was presented to us we wasted little time getting started."
ScanBelt has more than 50 different belt types available, designed for use in automotive, bakery, bottling and canning, dairy, fruit and vegetable, material and packaging, meat and poultry, pasta, seafood, and numerous specialty applications. The entire manufacturing process from design and tool making, to plastic molding and assembly all takes place in Hjoerring, Denmark. Apache's will now also offer full fabrication and assembly capabilities by certified technicians in their recently expanded Cedar Rapids, Iowa headquarters.
Last week Apache and ScanBelt displayed jointly at Process Expo, the nation's largest food and beverage industry trade show which focuses on the latest technology and integrated solutions. This week they are formally announcing this bold step at the NIBA/PTDA Joint industry Summit.