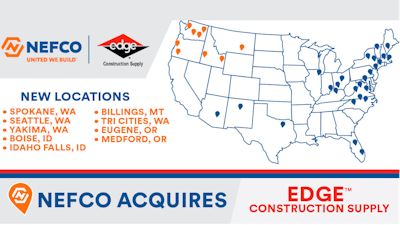 NEFCO
EAST HARTFORD, Conn. — NEFCO, a leading specialty supply partner to the professional construction trades, has completed the acquisition of Edge Construction Supply.
Edge is headquartered in Spokane, Washington, and has eight additional locations in Washington, Idaho, Oregon and Montana. This is NEFCO's ninth acquisition since 2017 and brings the total number of NEFCO locations to 35.
"Edge is an incredible family business that has built a reputation for being a highly reliable, service-focused distributor with high integrity and strong values. We are honored to welcome the amazing Edge employees to the NEFCO family, where we share many of the same values," said NEFCO CEO Matthew Gelles. "The partnership with Edge brings NEFCO into the Pacific Northwest, furthering our expansion across the west coast as we work to achieve our vision to partner with contractors across every jobsite in America."
"Edge Construction Supply is excited to take this next step to join the NEFCO team," said Eric Grabowski, president of Edge Construction Supply. "Edge was started in 1949 by my wife's grandfather and has deep roots as a family business. NEFCO is also a family business with similar core values focused around taking exceptional care of both employees and customers.
"Through this partnership, we will be able to expand both our footprint and product offering. NEFCO's expertise in SHARP products, engineered pipe supports, and supply chain will benefit our current contractor customers throughout the Northwest. We know great things are ahead with NEFCO, and we could not be more thrilled to join forces with this thriving organization."