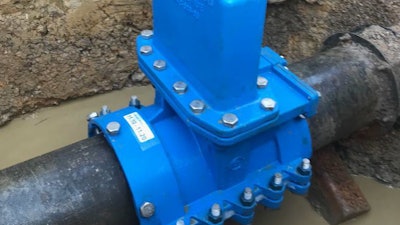 Henkel
DUESSELDORF, Germany — Henkel announced Thursday that it has acquired U.S.-based Critica Infrastructure, a specialized supplier of maintenance, repair and overhaul composite solutions for the world's most critical infrastructure, such as oil and gas transmission as well as municipal water supply systems.
Critica is active in many countries with a strong focus on North America and is expected to reach sales of around 100 million euros — around 110 million USD — in 2023.
With aging infrastructure and the increasing relevance of sustainability, demand for repair solutions that extend asset life is gaining importance. Therefore, maintenance and repair solutions for industrial and municipal applications are becoming increasingly significant. While Henkel has been expanding its portfolio for maintenance, repair and overhaul solutions over the past years, the acquisition of this attractive adjacent business adds a large, innovative and certified portfolio of composite repair and reinforcement products for the industrial and municipal infrastructure market.
"As part of our strategic growth agenda, compelling acquisitions play a key role in actively shaping our portfolio," said Henkel CEO Carsten Knobel. "This transaction is an important step to significantly strengthen our maintenance, repair and overhaul portfolio in a dynamically growing market by expanding our offering through innovative solutions in adjacent application areas. Our aim is to create a new platform that will enable us to add further adjacent businesses, stimulate further growth and enhance our position as global leader in the adhesive technologies market."
The company employs around 250 people and has eight production sites, most of them in the U.S. The business supplies products to about 3,000 asset owners, contractors and distributors. The portfolio comprises composite wrap and reinforcement solutions as well as insertion valves for oil and gas transmission, refining, chemical, and water supply systems. The solutions are marketed under the brands CSNRI, Advanced Valve Technologies, Fyfe FRP and GeoTree Solutions.
"We are excited about the opportunity to add this strong innovative portfolio of fast-growing and highly profitable MRO solutions to our Adhesive Technologies business," said Mark Dorn, executive vice president responsible for Henkel's Adhesive Technologies business. "It is a strong strategic fit to our existing portfolio, adding highly complementary repair solutions, which clearly contribute to shaping the sustainability mega-trend. The transaction will enable us to create a growth platform for our MRO business, giving us access to leading maintenance service providers and contractors as well as pioneering and certified technologies for critical infrastructure."