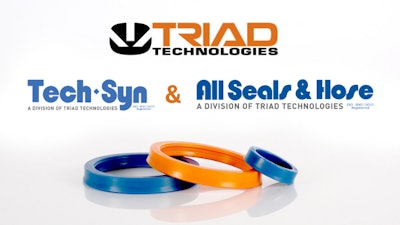 Triad Technologies
Triad Technologies LLC, a leading distributor of fluid power, industrial automation and fluid conveyance products, announced Tuesday that it completed the acquisition of Tech-Syn Corporation and its wholly owned subsidiaries effective March 31, 2023.
Tech-Syn is a value-added distributor of seals, O-rings, hoses, fittings and other related products sold to a wide array of industrial customers. The company is headquartered in Bloomingdale, Illinois, with additional locations in Rockford, Illinois, and Milwaukee, Wisconsin. Since its founding in 1959, the company has provided customers with exceptional customer service, high-quality product lines and unparalleled technical expertise.
The combination of Triad and Tech-Syn creates a unique value-added fluid power distribution platform across the Midwest with the ability to solve complex sealing challenges for its customers.
"We are pleased to welcome the Tech-Syn team to the Triad family," said Greg Wissman, president and CEO of Vandalia, Ohio-based Triad. "The strategic fit between Tech-Syn and Triad is very strong. Tech-Syn has expertise in highly engineered seals and O-Rings whereas Triad offers a broad array of complementary products across hydraulics, pneumatics, industrial automation and industrial hose. This compelling strategic alignment will allow the combined company to provide comprehensive solutions to our shared customer base, while strengthening our presence in the Illinois and Wisconsin markets."
"Customers will benefit from a more diverse range of product categories, providing solutions for a wider variety of applications. Furthermore, the combination of these companies will foster a culture of growth and development for our employees," added Gary Manning, former president and owner of Tech-Syn. "The combined company's expanded scope and capabilities will create new opportunities for career advancement, skill development, and cross-functional collaboration."
The acquisition of Tech-Syn is consistent with Triad's strategy to expand its product offering and geographic presence.
"Triad's acquisition of Tech-Syn greatly enhances Triad's ability to provide complex sealing solutions to its customers. It also strengthens Triad's footprint throughout the Midwestern United States. Looking ahead, Triad continues to seek acquisitions that expand its product breadth and geographic reach to better serve its customers," said Charlie Denison, managing director at Shorehill Capital LLC.
Triad and Shorehill partnered in 2019; since that time, Triad has successfully executed numerous organic growth initiatives and Tech-Syn represents the partnership's third acquisition.
Terms of the transaction were not disclosed.