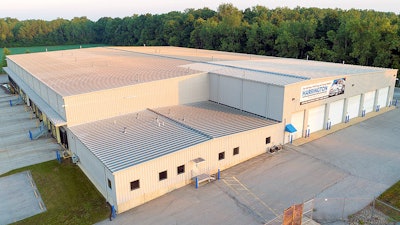 Harrington Industrial Plastics LLC
CHINO, Calif. — Harrington Process Solutions, a leading specialty distributor of industrial flow control process solutions, announced Thursday that it has entered into a definitive agreement to be acquired by Bain Capital Private Equity.
Harrington will continue to operate as a standalone company and be led by its current management team. Financial terms of the private transaction with funds affiliated with Nautic Partners, which have owned Harrington since 2020, were not disclosed.
Founded in 1959 and headquartered in Chino, California, Harrington is a leading distributor of piping and other engineered fluid process products for corrosive and high-purity applications. The company specializes in a variety of highly technical applications and products across categories including filtration, pumps, tanks, valves and instrumentation. With over 60 locations across the U.S., Harrington provides solutions to vendors in a wide array of critical industries, including semiconductors, water and wastewater management, chemicals, manufacturing, life sciences, and food and beverage processing.
"Our vendors and customers have long recognized Harrington as a leading supply chain partner and technical expert in the specialty distribution sector," said Harrington CEO Dave Abercrombie. "As our end markets are benefitting from key macroeconomic trends, we are excited to partner with Bain Capital to accelerate our growth as we continue to support critical industrial sectors across the country."
"We have built an impressive team of specialists that can quickly help to deliver complex and mission-critical fluid processing solutions for many of the nation's leading industrial and technology firms," said Harrington COO Bob Graham. "Bain Capital's experience partnering with and providing valued resources to industrial and specialty distribution companies will be very important as we continue to scale the business and serve the needs of our vendors, customers and team members."
"Harrington has been gaining market share for many years, driven by differentiated technical expertise, product availability and execution," said Joe Robbins, a partner at Bain Capital. "We have a great appreciation for the success the company has achieved to date, and we are excited to support Harrington's leadership and continued growth in the years to come."
Bain Capital Private Equity has a long history of investments in specialty distribution and is one of the most active investors in the sector both in the U.S. and globally. The firm's relevant global experience includes investments in US LBM, Imperial Dade, Dealer Tire, PartsSource, Diversey, HD Supply Holdings, Inc., Autodistribution, Brenntag and IMCD.
"Nautic was fortunate to partner with a strong and deep management team to carve out Harrington from its corporate parent and accelerate the Company's growth trajectory," said Chris Pierce, managing director of Nautic. "We would like to thank Dave Abercrombie, Bob Graham, Frank Yang, and the rest of the Harrington team for their accomplishments during our investment. Thanks to their efforts and the initiatives they have executed on over the past three years, we believe Harrington is well-positioned to continue to enjoy exceptional growth in the years to come."
The transaction is expected to close in the fourth quarter of 2023 and is subject to customary closing conditions, including requisite regulatory approvals. Debt financing for the transaction is being provided by the Private Credit business within Goldman Sachs Asset Management, BMO Capital Markets, Oak Hill Advisors, L.P., and Jefferies Credit Partners.