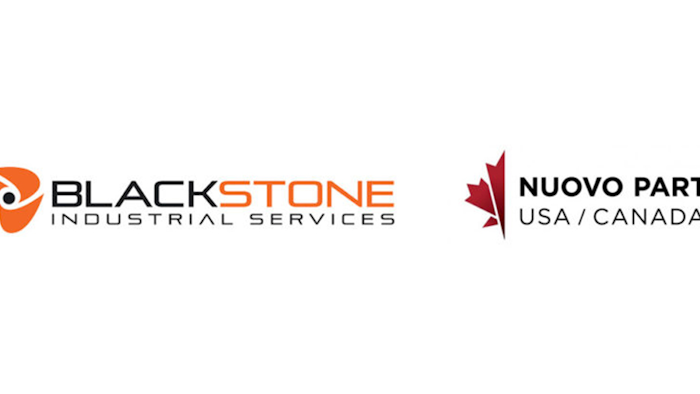 CALGARY, Alberta — Blackstone Industrial Services, a Canadian critical rotating equipment services company, has closed its acquisition of Nuovo Parts Inc., a key North American distributor and Authorized Service & Sales Channel of Baker Hughes, a GE company. Nuovo Parts has been a distributor and supplier of GE and Nuovo Pignone S.p.A. spare parts for more than two decades.
Since its founding in 1996, Nuovo Parts has worked to support all ground-level activities for spare parts of Nuovo Pignone S.p.A. equipment landed in Canada, with an expansion in 2005 to the United States. Nuovo Parts's focus on creating value for operators of quality equipment has been a constant for its customers since the company's inception. The company will remain headquartered in Surrey, B.C.
Nuovo's supply of Pignone spare parts includes:
Reciprocating Compressors
Centrifugal Compressors
Turbines – Gas
Turbines – Steam
Pumps
Valves
"I have long understood the capability of Nuovo Pignone equipment — I was trained there, and our founder Allan Schofield lived with these machines in the field," said Alex Fulthorpe, P.Eng, vice president of sales and marketing for Blackstone. "We built our company on uncompromising quality and the idea that service needs to be constantly redefined. This acquisition is in line with our core purpose, and the combination of our companies will create incredible customer value and equipment visibility. It's with this foundation that we can confidently provide a new level of convenience, service and solutions for our customers."
Founded in 2002 and branded in 2012, Blackstone is five years into its consolidation and growth strategy. As a Canadian OEM agnostic service provider, it has worked to build a reputation for being dynamic and actionable. Blackstone has invested in its relationship with the former GE Oil & Gas, now BHGE Turbomachinery Process Solutions. The acquisition of Nuovo Parts adds strong bandwidth to this relationship, as well as expansion into the United States service market. Nuovo Pignone has been building quality equipment since 1842 in Florence, Italy, and was wholly acquired by GE Power Systems in 1994.
"Rotating equipment service is a fragmented space, and we seek to build the best teams to rebuild what I believe is a lost concept: honest service," said Blackstone VP Fulthorpe. "We are building an institution to reimagine what is a very simple ethos: answer the call when your customers need help and simply be the best in class. We are a boots-on-the-ground organization and are very focused on supporting GE, Nuovo Pignone and all of their legacy equipment. We will go where the market and GE need us to be, and that evolution will continue to build on an already great partnership."