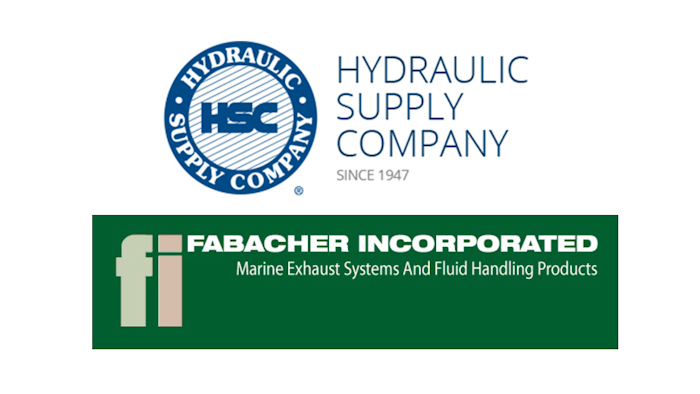 SUNRISE, FL & HARVEY, LA — Sunrise, FL-based Hydraulic Supply Company (HSC), a fluid power distributor of hydraulic, pneumatic and industrial products and Harvey, LA-based Fabacher Incorporated, a marine exhaust and fluid handling products company, announced July 14 they have entered into a definitive purchase agreement with Hydraulic Supply Company acquiring all of the assets of Fabacher Incorporated.
"We are thrilled to have the opportunity to carry on the work Bob and Ed Fabacher started from their Louisiana location nearly 40 years ago, supplying and distributing marine exhaust and fluid handling products throughout the U.S. We are equally delighted they have entrusted us with their team members, customers, and vendor partners, as part of the growing Hydraulic Supply family," said John Serra, President, Hydraulic Supply Company.
Hydraulic Supply Company now operates in Florida, Georgia, South Carolina, North Carolina, Tennessee, Louisiana and Monterrey, Mexico with locations coming soon to Alabama. The company has immediate plans to increase the size and breadth of the Fabacher product and service portfolio available to customers in New Orleans and Southeast, to continue to meet the growing needs of those fluid power & industrial customers.
"Our life's work has been to serve the New Orleans and Southeastern markets and our customers with quality products and services, while at the same time providing good stewardship to the loyal employees of Fabacher Incorporated," Ed Fabacher said. "We could not think of a better company to place our employees and customers with, than into the trusting hands of Hydraulic Supply Company, which shares a similar culture and set of values to the company that we and our employees have built over the last 40 years."
As a result of the Fabacher acquisition, Hydraulic Supply Company will also be adding capabilities to its other locations including metal hose and pipe fabrication to its current hose assembly, tube bending-flaring, valve assembly, and build programs.
"We are happy to support Hydraulic Supply Company's plans to grow the business and add new products and services, as they carry on the mission, culture, and values we built," Bob Fabacher added.