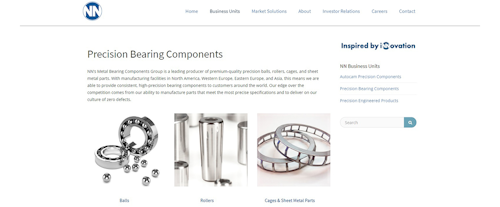 Johnson City, TN-based bearings maker NN Inc. announced earlier this week that it is selling its Precision Bearing Components Group (PBC) to Japan-based Tsubaki Nakashima Co., a supplier of industrial precision balls used for bearing and other applications.
Tsubaki Nakashima is paying $375 million for the PBC group, with the transaction expected to be completed in the second half of 2017, pending regulatory approval.
According to Tsubaki Nakashima's investor presentation about the acquisition, PBC mainly manufactures and sells steel balls, rollers and cages for the bearing industry. It has seven locations globally and had 1,260 employees as of December 2016. It had 2016 sales of $249 million and operating profit of $23 million.
"The sale of PBC furthers NN's long-term strategy to build a diversified industrial business with a comprehensive geographic footprint in attractive high-growth market segments," NN Inc. said in its press release, adding that it will re-invest the estimated $270 in net proceeds from the sale into higher-growth, higher margin end-markets.
"This transaction further balances our portfolio and provides us with the capital to execute on our strategic expansion into the higher-growth, medical and aerospace end markets," NN Inc. president and CEO Richard Holder said. 
NN Inc. will classify the PBC group as discontinued operations beginning in its fiscal third quarter reporting.