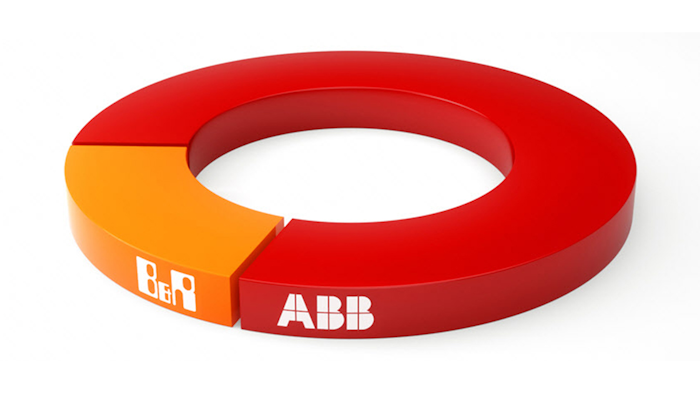 ZURICH, Switzerland — ABB on Tuesday announced the acquisition of B&R, the largest independent provider focused on product- and software-based, open-architecture solutions for machine and factory automation worldwide.
B&R, founded in 1979 by Erwin Bernecker and Josef Rainer is headquartered in Eggelsberg, Austria, employs more than 3,000 people, including about 1,000 R&D and application engineers. It operates across 70 countries, generating sales of more than $600 million in the $20 billion machine and factory automation market segment.
The combination will result in an unmatched, comprehensive offering for customers of industrial automation, by pairing B&R's innovative products, software and solutions for modern machine and factory automation with ABB's world-leading offering in robotics, process automation, digitalization and electrification.
Through the acquisition, ABB expands its leadership in industrial automation and will be uniquely positioned to seize growth opportunities resulting from the Fourth Industrial Revolution. In addition, ABB takes a major step in expanding its digital offering by combining its industry-leading portfolio of digital solutions, ABB Ability, with B&R's strong application and software platforms, its large installed base, customer access and tailored automation solutions.
"B&R is a gem in the world of machine and factory automation and this combination is a once-in-a-lifetime opportunity. This transaction marks a true milestone for ABB, as B&R will close the historic gap within ABB's automation offering. This is a perfect fit and will make us the only industrial automation provider offering customers the entire spectrum of technology and software solutions around measurement, control, actuation, robotics, digitalization and electrification," said ABB CEO Ulrich Spiesshofer. "This acquisition perfectly delivers on our Next Level strategy. With our unique digital offering and our installed base of more than 70 million connected devices, 70,000 control systems and now more than 3 million automated machines and 27,000 factory installations around the world, we enable our combined global customer base to seize the huge opportunities of the Fourth Industrial Revolution."
"This combination offers fantastic opportunities for B&R, its customers and employees. We are convinced that ABB offers the best platform for the next chapter of our growth story. ABB's global presence, digital offering and complementary portfolio will be key for us to further accelerate our pace of innovation and growth," said Josef Rainer, co-founder of B&R.
"This is a strong signal for our employees as our operations in Eggelsberg will become ABB's global center for machine and factory automation," said Erwin Bernecker, co-founder of B&R. "The most important thing to me is that the companies and their people fit so well together and that our founding location will play such a key role."
On closing of the transaction, B&R will become part of ABB's Industrial Automation division as a new global business unit — Machine & Factory Automation — headed by the current Managing Director, Hans Wimmer. Both companies consider B&R's management and employees as a key driver of future growth and the business integration together with their counterparts from ABB. The co-founders of B&R, Erwin Bernecker and Josef Rainer, will act as advisors during the integration phase to ensure continuity.
The integration will be growth-focused and live by the "best-of-both-worlds" principle, with ABB adding its own PLC and servo drive activities to the offering of the new business unit in a phased approach. ABB underlines its clear commitment to continuing the B&R growth story by articulating a mid-term sales ambition to exceed $1 billion.
ABB is committed to further investing in the expansion of B&R's operations and to building on the company's successful business model and brand. B&R's headquarters in Eggelsberg will become ABB's global center for machine and factory automation.
The transaction is expected to close in summer 2017, subject to customary regulatory clearances.