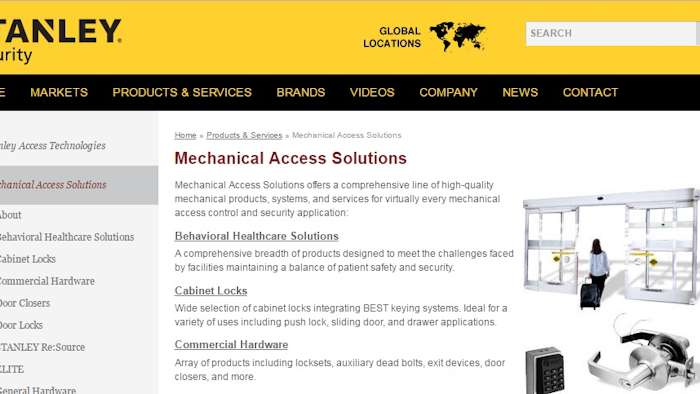 Diversified industrial manufacturer Stanley Black & Decker has entered into a definitive agreement to sell the majority of its Mechanical Security businesses to Switzerland-based Dormakaba AG, a maker of door hardware locks, for $725 million in cash.
The sale includes the commercial hardware brands of BEST Access, phi Precision and GMT, which together represented $270 million in sales in the last 12 months. The transaction is expected to close in the first quarter of 2017. The remaining part of the Mechanical Security businesses, Sargent and Greenleaf, was not included in the sale.
In a statement, Stanley CEO James Loree said "After an extensive evaluation of our Security business, we are sharpening our focus on areas within our portfolio which are strategically attractive. While BEST Access, phi Precision and GMT are healthy and profitable businesses, they are a better fit in Dormakaba's portfolio and their divestiture will allow us to deploy capital in a more accretive and growth-oriented manner."
Loree is refocusing Stanley on growth opportunities in the tool industry after ending a self-imposed deal-making hiatus with the $1.95 billion acquisition of Newell Brands's tools business in October.
Newell Tools is expected broaden the reach of Stanley Black & Decker's global tools and storage business.  Newell Tools operates a global manufacturing footprint, maintains strong distribution relationships in its served markets, and has more than 2,500 employees around the world.