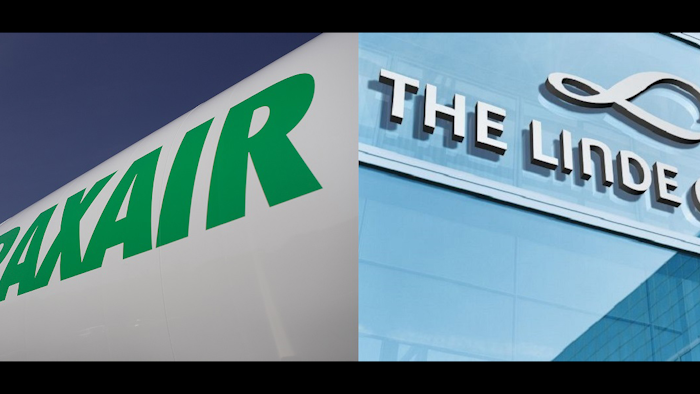 After a second attempt at discussion talks, it appears the the awaited Linde and Praxair merger is about to materialize.
Industrial gas companies Linde and Praxair announced Tuesday that the companies have agreed to merge to form the world's largest industrial gas supplier, with a combined enterprise value of $65 billion dollars. Praxair and Linde had combined 2015 sales of about $30 billion.
Danbury, CT-base will purchase Munich, Germany-based Linde for $35.1 billion, three months after previous merger talks failed. Talks resumed earlier in December.
Those previous talks reportedly dissolved because Praxair was seeking an outright acquisition, while Linde sought an equal merger. The agreed merger appears to have addressed Linde's concerns as the combined company will be called Linde, with the company's combined press release Tuesday stating the company name is "retaining the globally recognized brand and would be listed on both the New York Stock Exchange and Frankfurt Stock Exchange."
Linde also reportedly had concerns regarding layoffs in Germany, but Praxair has agreed to keep operations in Munich, with a Linde union statement last week guaranting no forced layoffs until 2022.
Praxair's press release Tuesday described the deal as a "merger of equals." The combined company will be based outside of Germany in a member state of the European Economic Area — comprised of the European Union and Iceland, Liecthenstein and Norway. Praxair Chairman and CEO Steve Angel will become the company's CEO and remain based in Connecticute, while Linde supervisory board chairman Wolfgang Reitzle will become group chairman.
Existing Praxair and Linde shareholders would each own about 50 percent of the combined company.
"Corporate functions would be appropriately split between Danbury, Connecticut and Munich, Germany to help achieve efficiencies for the combined company," Praxair and Linde said in their statement. The companies expect the deal to creat $1 billion in annual savings.
While the company's combined press release talks of equals, Bloomberg quotes Independent Research analyst Bernhard Weininger saying, "They call it a merger of equals, but it seems like the Americans will play a dominant part sooner or later. In reality, there is no such thing as a merger of equals."
The deal creates further considerable consolidation in the market, following France-based Air Liquide's completed $13 billion acquisition of Radnor, PA-based Airgas this past May in a that deal created what is currently the world's largest industrial gas supplier. That deal faced scrutiny from antitrust regulators, with Air Liquide forced to divest certain assets to meet conditions set by the Federal Trade Commission.