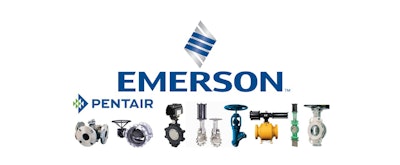 Emerson Electric says it will acquire Pentair's Valves and Controls Business for $3.15 billion, a landmark deal for the Emerson following its Aug. 2 announced sales of two business units.
"This acquisition delivers on our strategic plan of investing in automation solutions and in markets where we have a global leadership position and see significant long-term growth opportunities," said Emerson CEO David Farr in a statement. "By adding Pentair's Valves & Controls leading technologies and services to our already broad portfolio, we have positioned our businesses to grow while continuing to provide our customers around the world with more complete solutions to their toughest challenges."
The deal is expected to close in 4 to 6 months.
The division, based in Switzerland, has about 7,500 employees around the world, and serves process industries such as petrochemicals and mining.
It has been a busy month for Emerson. On Aug. 2 the company said it was selling two business units for a combined total of more than $5.2 billion in cash. One of those units, Emerson's Network Power business, is being sold to Platinum Equity and a group of co-investors. The transaction, valued at $4 billion, is expected to close by Dec. 31. Emerson will retain an interest in Network Power.
The St. Louis, MO-based company previously said it planned to spin off that business to concentrate on its industrial automation operations as well as its commercial and residential heating and air conditioning divisions. Emerson's Network Power business provides thermal management, A/C and D/C power, transfer switches, services and information management systems for the data center and telecommunications industries.
In the second transaction, Emerson said it is selling its motors, drives and electric power generation business to Japan-based Nidec Corp. for $1.2 billion. The deal includes Emerson's Leroy-Somer and Control Techniques business units.
Nidec said it aims to complete the deal in its fiscal third quarter pending regulatory approval. It is the second acquisition that Nidec has made with Emerson. Six years ago, Nidec bought Emerson's motors and appliance controls business for an undisclosed amount.
Emerson has slashed its outlook for the year after it missed fiscal third-quarter expectations. Sales fell 7 percent from a year earlier. Emerson, like many other large international manufacturers, has been hurt by weakness in the oil and energy markets and the strong U.S. dollar.
Emerson expects sales this year to fall 9 to 10 percent, with adjusted earnings per share coming in between $2.90 and $3. In May, the company had forecast a sales decline of 5 to 8 percent and adjusted earnings of $3.05 to $3.25 a share.