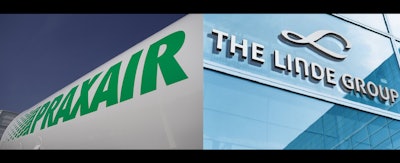 A report Tuesday by the Wall Street Journal said that U.S. industrial gas supplier Praxair and Germany-based competitor Linde AG have held initial talks about a merger aiming to "create a market leader with a value of more than $60 billion," citing people familiar with the matter.
Praxair confirmed the report later Tuesday, stating "these discussions are ongoing and there can be no assurance they will result in a transaction, or on what terms any transaction may occur."
The WSJ said one person familiar with the matter said Praxair was considering an acquisition of Linde, but two other sources said Linde wanted an equal merger.
The New York Times said Linde has a market value of around $30.4 billion, compared to about $33.7 billion for Praxair.
The report said a Praxair-Linde merger would face hurdles from federal antitrust regulators and noted that a deal could still fall apart.
No other notable details were shared, other that talks were still very preliminary.
This past May, regulators cleared Air Liquide's $13.4 billion acquisition of Airgas — No. 9 on Industrial Distribution's 2015 Big 50 List. The deal was announced in November 2015, but wasn't finalized until May 23 after the companies agreed to divest certain assets to meet regulators' conditions.
A Praxair-Linde deal would be considerably larger, however, and would likely face increased scrutiny from regulators. On May 2, Halliburton's $34.6 billion acquisition of Baker Hughes was scrapped following opposition from U.S. and European antitrust regulators.